– sets aside Court of Appeal's decision, invalidates CEO's Elections Report
THE Caribbean Court of Justice, in assuming jurisdiction to hear an application filed by People's Progressive Party/Civic (PPP/C), has set aside the decision of the Court of Appeal on the interpretation of the Constitution; and invalidated the Elections Report submitted by the Chief Elections Officer, Keith Lowenfield.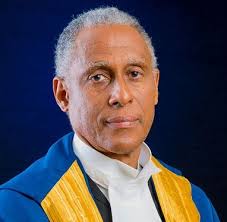 President of the CCJ, Justice Adrian Saunders, in handing down the decision, said while decisions made under Article 177 (4) are final as indicated by the Constitution and the Caribbean Court of Justice Act, the Court of Appeal had no jurisdiction to hear the application filed by Eslyn David. David's application, Justice Saunders said, was not based on the qualification of a President or interpretation of the Constitution but rather the Order No. 60, which triggered the National Recount.
"It is evident that from the nature of Ms David's complaint and issues she placed before the Court of Appeal that the questions raised by her did not depend upon the qualification of any person for election or upon the interpretation of the Constitution. Ms David's complaint was really about the impact of Order 60, and about the conduct of GECOM; and what the Court of Appeal did was to embark upon an exercise of interpreting Order 60," Justice Saunders said while ruling that the lower court had no jurisdiction.
He said there was no need for the Court of Appeal to interpret Article 177 (2) (b) of the Constitution because it needs no interpretation.
"Article 177 (2) (b) in fact require no refinement. That article in plain and simple language has always said what it meant and meant what it said. There was no need for an interpretation of that article," CCJ President said.
On the basis that the Court of Appeal had no jurisdiction to hear the case, the CCJ also set aside the report of the Chief Elections Officer, which was submitted to the Guyana Elections Commission one day after the lower court had ruled.
"It is for GECOM to ensure that the CEO submits a report in accordance with his directive of 16th June, in order to proceed along the path directed by the laws of Guyana…," the President said.
The decision of the court was unanimous.