….to seek counselling, apologises to abused victims
Kaieteur News Sub-editor, Ruel Johnson has admitted to some of the accusations levelled against him by two of his former girlfriends but denies that he is guilty of physical abuse, statutory rape or grooming. He has admitted that he does have concerning behavioural problems and will be seeking counselling for help.
In light of the recent accusations, though The Citizen Initiative (TCI) has let go of Johnson as their Co-founder and Executive, it appears that he will keep his job at the Kaieteur News as he is now taking steps to meet with female staff individually at the media entity to ascertain whether he has wronged them in any way.
On Wednesday morning, through a Facebook post, Johnson said that since accusations were made against him he was advised by his friends to remain silent but he has decided to respond in light of the public engagement on the issue.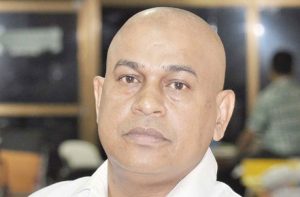 However, in his response, Johnson distanced himself from some of the remarks made by his ex-girlfriends, Youth Activist and Stabroek News Columnist, Akola Thompson, who broke the silence on the alleged abuse, and Sinah Kloss, a German woman who also accused the Sub-Editor of ill treatment.
Johnson said that Thompson's account of their relationship was "largely and deliberately fictitious" and was made up of information contradicted by public and private record.
"Ms. Thompson has made very specific accusations of what amounts to allegations of criminal activity on my part. I invite her to press charges and believe that she should be given whatever genuine support she can in that regard. For the record, as much as I am against her false portrayal of events, I equally condemn any attempts to slander or shame her or any woman who comes forward with any story," Johnson said.
Regarding Kloss, he said that the woman's account of her "burnout" phase due to studies and a dying father, was used to seek attention. While he admitted to her account of him spitting at her, he denied manipulation and physical conflict.
Johnson said: "What she describes as 'burnout' was a phase, in finishing her PhD, in which, among other things, she threatened to throw herself from my balcony and make it appear as if I had pushed her, because I was not paying enough attention to her. What she describes as 'spitting' is a singular incident in which, as I was lying down, she came over me, held my hands and screamed in my face that I should pay attention to her. Not wanting to physically remove her, yes, I spat at her, something I regretted doing the moment I did it. I ended the relationship after that. More than once, for the avoidance of conflict, I was forced to stay away from a place I frequented due to her turning up there."
While many have come out in support of the two women on social media some members of the public have argued that there are two sides to every situation. They have called for Johnson to be allowed to give his side of the situation which he did, just moments ago.
However, even Johnson's close friends have had reason in the past few hours to admit that he did have tendencies regarding his relationships which were concerning.
Lloyda Alicia, a close friend of the Sub-Editor posted on her Facebook page late yesterday evening: "I considered him to be a friend. One of the young ladies who spoke out publicly messaged me many years ago one night, crying. I comforted her and offered support and I called him. I am not ready to say publicly what he said at that time because I am hoping he will do the right thing and take responsibility. He does not owe me anything but he owes these women a lot. At that time, I did not realize it was a pattern of behavior. I have expressed privately to friends my discomfort with some of the recent relationships he has had and I was particularly upset when a friend described an experience she had at his house. In the last few days, as I have learned more from others who have told me stories of their experiences with him, I have been shocked at how similar the patterns are and just how many people have experienced this with him."
In contrast, when contacted by the Guyana Chronicle on Tuesday for a comment on the matter, Kaieteur News Publisher, Glenn Lall said that the matter is a "bedroom story" and those involved should "thrash it out".
Johnson said in his Facebook post that he is now reflecting on his behavior and acknowledges that he has two problems: his "predilection for connection to women" which has resulted in infidelity and his inability to sustain long-term relationships, and his "facility with words" which, at times, is too harsh.
"A few of those engagements were with girls, not women, that I should have had no business dealing with and as a grown man, and I should have known better. It does not matter that my behavior fits no legal definition of statutory rape or grooming; the power relations were so skewed in my favour that it constituted an intrinsic inequality… this is something I need, and will seek, counseling for. I might not be guilty of the worst claims against me, but that does not make me innocent of bad behavior," he said.
He apologized to his family, friends, son and wife noting that he is sorry and ashamed that the matter had grown to this public magnitude.
"I make a specific apology to my wife, Cristal, for what she has been subjected to. To the women I have hurt – including Sinah and Akola – I am truly, genuinely sorry. You should not be silenced and you should be allowed to speak your truth. I am open to reconciliation and a direct apology to anyone whom I have caused pain. If nothing else, I hope that my being called out on my behavior sets a standard when it comes to powerful men in this country and their behavior towards women. No woman should be silenced, and no man offered protection because of his wealth, public status or political affiliation," he said.
"With regards to my employment – I raised the issue for discussion at a meeting as soon as it became public. My employer, Glen Lall, also did the same. I have invited female staff members to come speak to me at their convenience and have me address whatever concerns they might have with working with me."