By Jared Liddell
There are a lot of things that as Guyanese and as members of the Caribbean that are a part of our culture, from soca music to the sweet sounds of the steel pan and even some of the foods we make. In Guyana, a household staple is 'green seasoning'. No Guyanese household can be seen without this ingredient and owner of 'Wonderfully Made', Wanda Campbell, understands this and has taken the opportunity to capitalise on it.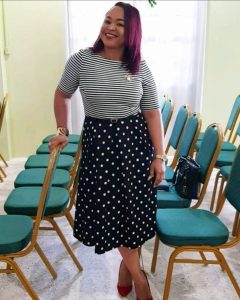 The Pepperpot Magazine caught up with Campbell who stated that she "Has given green seasoning a new meaning". She further stated that she started the business after receiving compliments from her friends and family on the flavour of her food, which she attributes to her homemade seasoning. She stated that after receiving these compliments and making seasonings for her family, friends and friends of friends, she had gotten the encouragement to actually start up a business in this area.
Campbell stated that her products are organic and that she decided to move in this direction because she believes organic products to be very beneficial to the individual lives of persons.
"My business is mainly about organic, green seasoning and promoting a healthy lifestyle, encouraging people to eat clean. It is said what you eat either feeds a disease or fights it so why not eat clean? [It is also about my] love of cooking and not finding the right seasoning to complement my meals and give the taste I am looking for. So I started blending my own herbs and spices," she said.
She stated that, in the beginning of her business, she did not have any challenges; she just ensured that she was focused on her business and what it means to her. Campbell said that she knew she had to make sure she had packaging that would allow her business to grow, and be promoted so she found the right packaging and label that would best represent her and her brand. She further stated that she is currently working to get her products into supermarkets.
"My present packaging is done to facilitate my customers and the quantities that they request. My seasoning is organic; it has no additives or preservatives so I recommend cold storage,"she said. "The packaging is perfect for that environment. I am now in the process of fulfilling supermarket requirements and getting the various certificates updated but due to the current pandemic, the necessary certification offices have put a hold on their operations."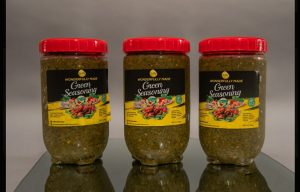 Campbell stated that she has decided that while doing her business she will give back to small scale entrepreneurs by sourcing the varying things that she would need for her blends, from her thick leaf to her eschallot and even ginger and all of the other ingredients from those persons. She said that she believes that those entrepreneurs who plant only organic crops would much more benefit from her business and she sees it as a way of sharing the blessings she is receiving with other business persons.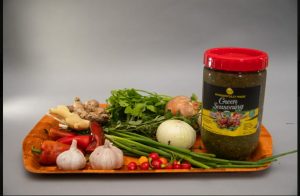 Campbell told the Pepperpot Magazine that although at first she had several thoughts of fear when starting her business she would encourage other entrepreneurs to not allow those thoughts to stop them from pursuing their ideas.
"This is from a special place in my heart. I remember how hard it was to overcome the fear of showcasing my product to the world, so I would advise all young entrepreneurs out there is to never be afraid to start small, take pride in what you do, stay focused and never give up. Success comes to those who are determined," she said.