Rosewood Foundation urges Guyanese
By Naomi Parris
AS the world continues to grapple with the changes brought on by the coronavirus, many Guyanese have also adapted to the situation by practising all the necessary safety measures to protect themselves and others.
However, during the current health crisis many have neglected animals and pets, leaving them to fend for themselves during the pandemic. Nevertheless, coming to their rescue is Donna Lam of the Rosewood Foundation Guyana (RFG); RFG has been working around the clock during these trying times to ensure that animals in vulnerable situations are rescued and placed in safe and loving homes.
"We rescue abandoned animals and rehome them after they have been given medical attention. We do not have a shelter. All our rescues are kept in our homes… the RFG works closely with the Guyana Society for the Prevention of Cruelty to Animals (GSPCA) and other animal-welfare groups to intercept and respond to cases of animal cruelty," Lam told the Pepperpot Magazine.
Lam noted that the foundation receives over a dozen animals daily, mostly involving neonatal kittens and puppies who are still breastfeeding but were dumped. "People inform us of these cases and members of RFG rescue them and bring them to be bottle-fed. More often than not, the bottle-feeding kittens wind up with me to foster. The most I have fostered at one time is nine little kittens," she stated.
Lam disclosed that after the animals are rescued they are fostered for six weeks and when considered healthy, they get their vaccines and the foundation's adoption team starts diligently networking to find them the perfect home; however, Lam noted that this task is not always easy, as the animals can't just be placed in any home.
"The home they will be going to will have to be inspected and the owner interviewed. And only after the new parent has agreed to return the pet when it is old enough to be fixed, is he handed over. And of course, the new parents have to agree to allow us to do follow-ups," she explained.
Challenges
Unfortunately, like many similar organisations given the current health crisis, a few challenges have made it difficult for the Rosewood Foundation to execute its work effectively. However, in relation to inspections, Lam noted that the foundation has had to make use of its resources and rely on video inspections and virtual interviews to ensure that adopted animals are in a safe and caring environment.
However, she further disclosed that the adoption rate has also dropped by 50 percent due to the pandemic,. Lam related to the Pepperpot that while many are willing to adopt, they are reluctant to do so because it's an addition to their families and an extra mouth to feed.
Additionally, Lam noted that the foundation's 'Stray Feeding Programme' has also taken a blow. "We currently feed 76 strays and donations have been dwindling, as people are more focused on their own survival in these trying times," she said.
'We are doing something right'
Despite the challenges, Lam related that she is particularly pleased now to see that many more people are aware and are acknowledging that animals are a part of our lives as well as how important they are.
Lam disclosed with the number of calls she receives daily, it can be determined that people are taking note. "People know if they see an animal suffering, there's help, they need not turn a blind eye," she said.
Aside from the foundation's hands-on work, education is also a key part of its mandate, "We at the RFG, always educate others about the benefits of having a pet. People with pets have lower blood pressure, less anxiety and are less likely to suffer from depression. They serve as social support during difficult times. Animals do not judge us. They do not care about your colour or how rich you are. They love you unconditionally."
Lam noted that the foundation also encourages and assists pet owners to get their pets spayed and neutered to prevent unwanted pregnancies.
She noted that when herself and team are not busy rescuing animals, they make efforts to visit several schools across the country to teach children the benefits of having their pets fixed, as well as educating them on how to properly take care of their pets.
"We teach them to be kind to all animals. We believe compassion is contagious. If you teach someone to be kind, they, in turn, will teach someone else to be kind. We believe most people are not mean to animals because they are mean people, they just don't know better," Lam stated.
A lover of animals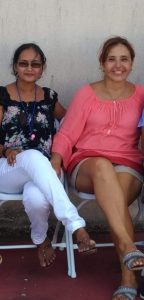 The 43-year-old mother of two noted that she would always feel more sympathy towards animals, hence, she started the Rosewood Foundation to advocate for the protection of animals through education, rescue and care.
In recalling her childhood, Lam stated, "The first memory I have is of myself crying for a cat that had died. I would always feel more empathy towards animals. I would feel their suffering. I would put myself in their place and imagine their pain. When it rained, I had a hard time sleeping, thinking of the homeless animals out in the rain."
She noted that due to her love for animals she often felt like the odd one out, since she was told she was weird for caring so much about animals. Nevertheless, Lam never took heed to what was said about her and eventually met someone, Ileana Bonnard, who co-founded the foundation with her and reassured her that her love and compassion for another life form is what speaks volumes about her character.
If you would like to adopt or report a case of animal abuse etc. Donna Lam can be contacted on 621-5514.