By Marissa V. Foster
Jamal Durant is a 22-year-old final year business management that hails from the mining town of Linden. He describes himself as a "people person". Hence, during this difficult time of social distancing in Guyana, he finds it tough to cope. Jamal enjoys being a young entrepreneur, playing basketball and of course; he relishes art and is eager to find a way to turn his artwork into a business. He lives by three simple rules and virtues: "hustle, respect and loyalty". When he was younger, he was once awarded a trophy for his art but he never took heed to the skills he possessed.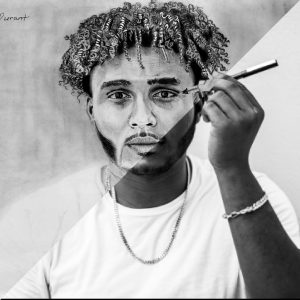 In the Third Form, his art teacher wanted him to pursue the arts but Durant was too focused on his business career. Currently, he has to find creative ways to mix both business and art, together. He sets his eyes on becoming one of the greatest artists to have ever lived in Guyana while at the same time managing a solid financial foundation to show young artists you can actually make a living from art. He aspires to allow his art to pay the bills one day.
Jamal was drawing for most of his life, just for leisure or to pass the time. He would always prefer to draw or look at nature. He expressed, "I see beauty in the small things rather than video games or sports. I am the type of person who can see every detail in your skin; the type that will compliment you for the unique patterns in your eyes." Recently, Jamal has created a piece that took the internet by a storm. It is a piece he drew that depicts himself overlooking the Stabroek Market while staying indoors, with the urge in his eyes to step outside. This piece is purely subjective to the viewers because Durant believes that art is subjective so one may see social distancing while others see quarantining.
He explained that "I, the artist would like the viewers to see that both social distancing and quarantining can be extremely important to ourselves and the people around us. The piece shows tears form my eyes crying for a better tomorrow while inside." He further went on to explain that: "It shows my pain for Guyanese, our country and how it affects us all. I tried to display the outside as dangerous with the use of an empty Stabroek Market which everyone knows and the 'caution tapes' to stay away; wires and cones that indicates danger. Grass is also growing wild because it showcases that it's been quite a while since anyone has been outside."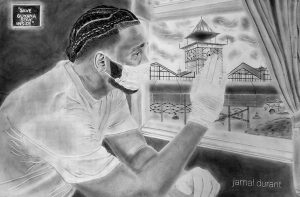 This artistic 'Lindener' believes his art serves as a form of enlightenment for others. He is proud of himself, for he has developed a mind-blowing skill despite life's challenges. Jamal would not have been the creative mastermind he is without the support of "his people". He describes the feeling of being "awesome" through which he can now be financially stable through his work. "I am asking everyone that will view this, 'how can young artists like myself make money?'. They should be afforded the opportunity like every other career choice to become successful and benefit from their creativity and hard work through art.
Throughout this life-changing journey, of finally being recognised for his memorable piece of social distancing and COVID-19 in Guyana, he remains humbled. So much so, he'd like to give gratitude to his father, his grandmother and his mother. The environment they paved for him truly helped to mould him into the gifted man he is today.