Guyanese fashion designer Andrea Wilson was thrilled to travel home to Guyana for Easter. It had been two years since the British Virgin Islands resident last visited the land of her birth. In February, she had accepted an invitation to show her Islander Wave Resort Collection at the Strut Le Labyrinth Fashion Show and Cocktail organised by Traits Model Management in Guyana.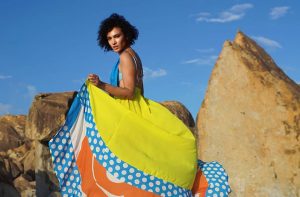 The outdoor event was fixed for Saturday, April 4 at the 106-year-old Everest Cricket Club in Georgetown. But on March 11, just two months after the coronavirus was first identified in Wuhan City, China, Guyana recorded its first virus-related death, a 52-year-old woman who had travelled from New York to Guyana. Then on March 25, two persons tested positive in the British Virgin Islands.
Global statistics were worrying by April 2, with more than a million people testing positive for the coronavirus and 55,503 deaths. Ports of entry and schools were closed, millions of people quarantined at home and social distancing and hand sanitisation regulations were imposed worldwide.
In Guyana, the fashion show was postponed and Andrea's ticket placed on hold.
"One moment, I was planning my trip to Guyana and looking forward to seeing my older son Stephan, who moved to Guyana to write CSEC [Caribbean Secondary Education Certificate] examinations. I was also excited to see my collection rock that runway and to enjoy some real cook-from-your-heart Guyanese food. But in a few shorts weeks, I was on 24-hour lockdown in my apartment in Hannah's Estate on Tortola," Andrea shared via video chat from her apartment.
From April 2 to 16, the island territory with a population of around 30,000, including hundreds of Guyanese, was on 24-hour curfew. Only essential workers, including nurses and police officers on duty, were allowed to move freely across the territory. Businesses were closed.
The scenic Caribbean destination known for its pristine beaches, yachting events, cruise ships and private luxury islands, including Necker Island owned by Sir Richard Branson, was on lockdown.
"We had a few days to stock up on food. People bought crazy amounts of water, toilet paper and canned food. So the day I was scheduled to travel to Guyana, I spent hours in the supermarket and bank lines preparing for lockdown for two weeks."
Then came adjusting to life in quarantine, from scheduled online classes for her five-year-old son Alexandre to working with clients and finding the time to design her new clothing line. Andrea works as a graphic artist for Jahphix Designs, a local company specialising in multi-media branding projects.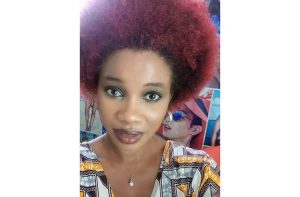 2019 was an incredible year for her company Absolutely Unique. The Islander Swim and The Islander Wave Collections were hits with the beach crowd and travel enthusiasts in the Caribbean and abroad. Some of her significant achievements were retaining America's Next Top Model Naima Mora as the face of her brands for a third consecutive year and travelling to Hong Kong with emerging designers after being featured at the prestigious Orange County Fashion Week in Los Angeles, the year before. She had a chance to meet with major manufacturers, distributors and retailers. Additionally, The Islander's collections were launched on the global market in the much sought-after Flying Solo in Soho, New York.
"I had a terrific 2019, definitely more ups than downs. My trip to Hong Kong reinforced my love of all things Caribbean. Brand 'Caribbean' is absolutely unique. We have a clear voice where fashion is concerned," she said.
Fashionistas in Los Angeles loved the bold and sassy swimwear and elegant beach wraps. She was asked to represent the Caribbean at an exposition in Hong Kong.
"It was because my collections were well received at Orange County Fashion Week that I was invited to travel to Asia in 2019, right after returning from Trinidad where I attended the RISE Women Conference organised by Cristal Lee in collaboration with United States embassy. In Hong Kong, I saw what having the right network and work ethic can do for up and coming brands,"she said. "You have got to stand out to be noticed. I am on lockdown at the moment, but I am looking at the glass as half full. I have more time to really think about the direction I will take my third collection. I mean, who would have thought in January that masks would be trending right now and that established brands such as Louis Vuitton would be creating them. It's happening, and designers are now thinking about ensuring their next collections are relevant to the times. As a designer, you have got to evolve with the times."
Recovery
"I have been impacted financially these last few months. My collections are swimsuits and resort wear. Everyone is home at the moment," she laughed. "But I am in agreement with the closures. We cannot do business as usual during a global pandemic with millions of people infected and hundreds of thousands dying from coronavirus. Just like after the financial recession of 2008, Zika and SARS, the world will bounce back. We just have to be patient and careful, and put safety first," Andrea stressed.
She has spent the last month thinking about her next fashion move.
"Before the pandemic, I was working on a resort wear line. But after spending weeks in quarantine, I have decided to launch my activewear collection. We are all going to want to feel sexy and bold after all these months at home watching movies and eating, especially those can't-put-you-down snacks and treats. The collection will be colourful, functional and affordable. I'm inspired by so many stories people have shared about their post-COVID-19 plans," Andrea said. "In most cases, persons just want to enjoy being outside together, or finally taking that hiking or camping trip. I am going to ensure those couples or friends are comfortably fitted. At the moment, I am having fun designing every piece of my first activewear collection. When all this is over, my vacation to Guyana will happen."