[From the archives of the Guyana Graphic: Published on February 22, 1970; hours before Guyana was declared the Cooperative Republic of Guyana]
LORD Mayor John Ford yesterday morning pulled a string and the independence flag of Guyana dropped to reveal the new name for High Street under a Guyana Coop Republic.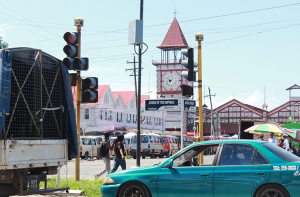 High Street, stretching from Church Street and four blocks southwards to the vicinity of Parliament Buildings, will now be known as the Avenue of the Republic. The other part will remain High street.
In the presence of a Saturday morning crowd outside Company Path, the Lord Mayor said that the renaming of some of these streets is a necessary exercise in all newly independent countries; and there must be an attempt to record in history important occasions such as independence and the birth of the republic.
"We have Independence Park, Independence Boulevard and now the 'Avenue of the Republic,'" he said.
Standing next to the Lord Mayor in the picture is Mayor Hamilton Holder of the Port of Spain City Council and Guyana-born Councillor Walter Bentley of the Port-of-Spain City Council,who is here for the Republic celebrations.