By Alva Solomon
He said the journey to where he is today was a long one, one which started when he decided to teach himself about electronics at the age of 12 during his days in Kitty and Campbellville.
But this former Christ Church Secondary student, who holds the position of Production Supervisor at the world's most advanced flight-data avionics company, is among an elite group of engineers who created an avionics service which may ultimately replace the famous "black box" flight data recorder.
---
---
The name Geoff Warren rings a bell in the local aviation circles but many may not know that this former Government Technical Institute (GTI) student oversees the production operations of FLYHT Aerospace Solutions, a Canadian company based in Calgary which has a growing reputation in international aviation.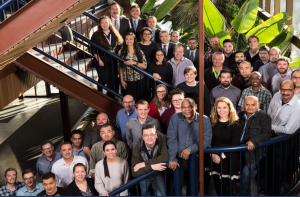 The company provides flight data satellite communication services, referred to as Automated Flight Information Reporting System or AFIRS, in real time, to several of the world's top airlines and Canada's WestJet recently signed a contract for the in-demand service. Given the nature of recent major aircraft crashes globally, Warren's expertise may be in demand.
The avionics system developed by FLHT, according to reviews posted online, acts as an alternate to the famous 'black box" flight data recorder which is usually installed on aircraft for the purpose of investigating aircraft incidents.
The information, which includes aircraft operations, weather and communication data, according to FLYHT Aerospace, is captured, processed, and transmitted to the ground operations of the airline. Here engineers on the ground are able to monitor, in real time, alerts relative to the aircraft operation including engine trouble among others.
Presently, Warren is in charge of the Production Lab at FLYHT Aerospace in Calgary. The lab is both a manufacturing facility and an AMO— Approved Maintenance Organization.
But who is Geoff Warren?
"I started my career when I was still a teenager," Warren, who is also a recreational pilot, said in laughing tones.
Nicknamed 'the Professor" by his peers, Warren told the Guyana Chronicle from Canada recently, that "I self- taught myself electronics at age 12, graduated Christ Church Secondary and went to GTI for 2 years to do Radio Television servicing."
He excelled at 'TI' having graduated with the best electrical student award, attaining the City & Guilds certificate.
Many who worked at the defunct Guyana Airways Corporation (GAC) would remember Warren. Still in his teens, he was employed at by GAC in 1976 as the youngest Avionics technician at the time.
He said that he was hired and trained in a class room by his mentor, the late Everad Burnham, the Avionics and Communication Superintendent at GAC's Avionics /Engineering Department.
Warren said GAC Avionics Department was charged with the maintenance of all government aircraft at the time and the fleet included those which belonged to the Guyana Defence Force, the Guyana Sugar Corporation and the Bermine bauxite firm. Importantly, the Presidential Beechcraft and Bell 412 helicopter were among those which the GAC maintained.
"That's how I got my practical experience in avionics both in the avionics workshop and line maintenance," Warren said.
In 1984, he parted ways with GAC and ventured in to the green pastures at Ogle airstrip, now the Eugene F Correia International Airport, where he freelanced, providing avionics services to the private operators such as Air Services Limited, George Gransault's aircraft company, Corriea Holdings (now Trans Guyana Airways) and aircraft of the late pilot Derek Leung.
In 1988, Warren was employed permanently by Trans Guyana. He recalled those teething days of aviation at Ogle.
"We had no hanger and worked out in the elements on floor boards over the swamp," he recalled. He said the company built a hanger in the early 1990's and he began setting up its avionics shop and he was able to have it approved as part of an Approved Maintenance Organization.
The determined Warren said that as a result of his years of experience in the sector, he challenged himself to write the prestigious Civil Aviation Authority (CAA) Aircraft Maintenance Examinations (AME) and after successfully overcoming that hurdle, he obtained an Avionics Licence in 1990.
Warren said Trans Guyana decided to build an avionics shop and was approved in 1995 as a first in the Caribbean to confirm to the new JAR145 Standards.
Moving to Canada
After exhausting his abilities here, Warren decided to venture further into the sector and as such he migrated to Canada ,"to start the next chapter in my career."
Now in his 60s and still hungry for aviation, Warren said it was a long journey to where he is at the moment.
Canada is the great equalizer, he said. "Your life gets reset to zero when you arrive. You can't get a job without Canadian experience and you can't get experience without a job," he explained.
He said he spent a year in Toronto without finding an aviation job, and his AME licence was useless," but I still had my skill. So I jumped in my car and drove 3500kms in 3 days North West to Calgary Alberta, where I got a job as an Avionics's technician."
He said that in the year 2000, he wrote the Transport Canada AME licence exam and was awarded his engineer licence.
This would be the vehicle to his success on Canadian soil. He said he worked with the largest independent avionics shop in western Canada for 13 years before he was approached by FLYHT to build their AFIRS black box.
FLYHT's global reputation
According to online posts, FLYHT is 20 years into the avionics industry with experience in streaming technology.
Warren said in a post online that the once the black-recorder box system is installed in a commercial aircraft, if there is an accident, FLYHT doesn't have to find its black boxes to know what happened to the aircraft since all the data from cockpit voice recorder (CVR) and flight data recorder (FDR) would have been already streamed in real time and available on the ground servers.
He said the invention is also a satellite phone, since it can send and receive text messages and email alerts and iPad connectivity for electronic flight bag.
Proud Guyanese
Warren described himself as a big-bike enthusiast. He collects and restores Japanese sport bikes and turbo charged cars.
He is also a trained flight test engineer, involved in flight testing light aircraft to certify them after auto pilot repairs.
Warren is proud of his Guyanese heritage and he regularly posts photographs on his social media pages which features the Golden Arrowhead.