THE Ministry of Public Health has promised that drug shortages at health facilities throughout the country will no longer be an issue. This is supported by the Public Health Minister who, earlier in the year, disclosed that, after a revision of its procurement process for drugs and medical supplies, the ministry reported a commendable 90% stock level.
Department of Public Information (DPI) this week visited two health facilities in Georgetown – Lodge Health Centre and East La Penitence Health Centre – to hear from those in charge. The two facilities, together, cater to thousands of patients weekly.
Dr. Keisha Chin, the General Medical Officer and Doctor in Charge of the East La Penitence Health Centre said the facility caters to more than 12,000 persons and the centre's stock of drugs and medical supplies must be up-to-date. "I am proud to say that, at the East La Penitence Health Centre, we have the majority of drugs that are needed not only for our various services but especially for the antenatal clinic, our care and treatment clinic and our chronic diseases," Dr. Chin noted.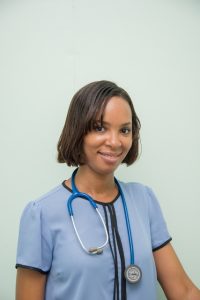 She explained that if there was a case where a patient went to the facility and the drug was not readily available, the first option would be to requisition the items from the drug bond through Regional Health Services.  However, there was another system in place to ensure that the person did not have to purchase the drug. "If there is a drug lacking at this particular health centre, we can call our sister health centre and once they have the drug, we do an inter-facility exchange [especially if the drug is overstocked at the next facility]. Also, I would attend to the patient here, prepare a prescription and ask them to have the patient collect the medication there," Dr. Chin explained.
Over at the Lodge Health Centre, Doctor in Charge, Dr. Alana Ernest, who has been working at that facility for approximately three years, noted that there had been an increase in the volume of patients seeking health services at the centre.
"We have definitely come a far way now we are offering more drugs than we did before. Our pharmaceutical aspect of this health centre has grown a lot and that is a plus. As it is for our dressing and so, the demands have gotten higher so that means that we have to provide more, and as such we had to increase our supplies to provide more care to these persons."
These improved stock levels are expected to get better as the new procurement system adopted by the ministry continues to take full effect. This process allows for the early stages of procurement for the following year's drugs and medical supplies to commence in the current year. With earlier procurement, the country will now stock one year's supply of drugs and medical supplies for distribution throughout the country. This gives the health ministry's procurement unit enough time to stock health facilities with essential medicines and other items. (DPI)