-IDA tripple drug strategy proven safe, adopted by several countries
In a matter of days, the Ministry of Public Health, in collaboration with the Pan American Health Organization/ World Health Organization (PAHO/WHO), will commence its 2019 Mass Drug Administration (MDA) Campaign, using a three-drug preventative chemotherapy, with the aim of achieving 100% geographical coverage.
Compared to previous years' MDA, where two drugs Diethylcarbamazine (DEC) and Albendazole, were distributed in targeted regions, this year, the new drug regimen will include Ivermectin.
This regimen is called IDA and aims to root out lymphatic filariasis from Guyana by 2020, thus removing its name as one of the two remaining countries in the Americas, still haunted by the disabling and disfiguring neglected tropical disease.
Since the relaunch of LF MDA, the campaign has seen a tremendous increase in coverage, compared to previous years, with a whopping 86 per cent recorded in 2017. Despite this overwhelming result, to reach eligibility for elimination status, the two-drug regimen would have needed at least three more rounds, making it a total of five rounds. With the introduction of IDA however, only two successful rounds are needed for filaria elimination, and if the populace responds positively, no Guyanese will be at risk to this disease, beyond 2020.
Scientific evidence has proven, that adding Ivermectin to the two-drug combination, the microfilaria is cleared more effectively from the blood. Large randomized community studies conducted in four countries, found that IDA is as safe as the two- drug regimen. According to Dr. Soumya Swaminathan, Director General of the Indian Council of Medical Research, who was involved in the study in India,
"This new regimen will help to improve programmatic impact and lead to the ultimate elimination of lymphatic filariasis in many regions, where millions of people are at risk of contracting the disease."
Study conducted: Guideline ‒ Alternative mass drug administration regimens to eliminate lymphatic filariasis
Breaking down in simpler terms was Dr. Jean Seme Fils Alexandre, Adviser, Health Surveillance Disease Prevention and Control, PAHO/WHO Guyana.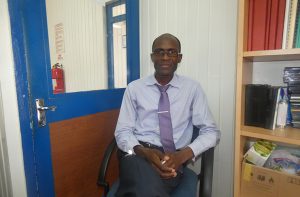 In an exclusive interview, he explained that the DEC, a salt based drug (Diethylcarbamazine citrate), targets anti-filaria baby worms while Albendazole, a regular over-the-counter worm tablet, targets matured parasitic- worms. Albendazole doesn't entirely destroy the adult parasite; that is why five rounds were needed to keep knocking down the matured parasite. With the addition of Ivermectin to the treatment, the study showed that after two years, the parasite cannot sustain further filaria transmission, so this pill has proven to be more effective in keeping the blood clear from the parasite. After two years, there was no parasite returning curve, this is good news," Dr. Alexandre posited. He added,
"So there is a sharper decrease; the parasites destruction is much better… so instead of going for five years, this you only do twice, this is the best thing that scientists would have done for those of us who are in fight to eliminate filaria" he said.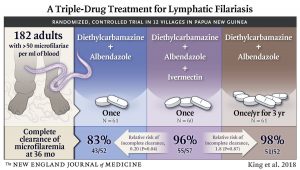 In expressing his hopes that the Guyanese population would embrace the campaign, thus dispelling myths that the drugs are unsafe, Dr. Alexandre, who has been working with MDA for many years, says he gives the pills to his own children because of how confident he is, that it is safe to consume. In fact, since MDA has started in Guyana, and around the world, there has been no recorded deaths from its consumption.
 "DEC has been used by so many countries using MDA to eliminate filaria -we are only two remaining in the Americas doing active MDA-, Albendazole is an anti-worm tablet given to all children. It is not even a filaria tablet, it is a worm tablet, this is safe, this has been there from the beginning."
Alexandre explained that it is very normal for those who have the filaria parasite within their system to experience some side effects.
Side effects include:
Nausea
Diarrhea
Headache
Dizziness
Muscle pain
When the parasite is killed, the parasite wastes are released into the body, and some uncomfortable feelings may be experienced. "If you kill this parasite, it is destroyed, and all the parasite's wastes are released, and then you feel uneasy. The side effects will last only the time needed for your system to clean itself. If you don't kill the microfilaria, and it becomes big, you cannot remove it then; you don't want this to happen," Alexandre reiterated. Research shows that it is better to take the drug on an empty stomach or one or two hours after meals.
           SIDE EFFECTS SHOULD NOT LAST MORE THAN 24 HRS
The campaign will commence this year in Region Four. It will include the four regions that were targeted in 2018 and 2019. This does not mean that the efforts made in these two years were wasted. Dr Alexandre explained that significant decreases in the level of endemicity was recorded in these regions, for example, in Region Four, the level of endemicity reduced from thirty four percent (in 2001) to around five percent (according to the 2018 remapping exercise).
The 2018-2019 remapping exercise, with PAHO/WHO's support, helped the country to ascertain the level of endemicity in the other regions and the areas to be targeted. It showed that Region's Eight and Nine, have less than 1% of endemicity and therefore an MDA exercise is not required. For the other Regions 1, 2, 7 and 6, only specific territory will be targeted.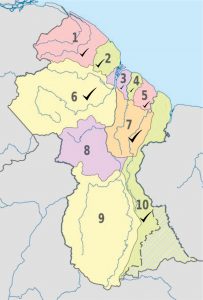 Region One- the Moruca Sub-region to be targeted
Region Two- The entire region except Bethany and Dredge Creek to be targeted
Region Seven- Bartica to be targeted
Region six- The entire region except Orealla and Sipuruta to be targeted
The dosage of the drug will be given according to the height of the consumer and the Pill distributors will ascertain this with the use of a dose pole (a measuring ruler). In previous years, dosage was determined by age, however the height calculation is required with the IDA strategy. In countries like India or Kenya, this method received a positive response
Taking the filaria pills is important to everyone's individual health and this will contribute to the success of the public health campaign, which by the way is a costing activity.
An infected person can carry the parasite for more than 20 years, before experiencing any form of swelling to their tissues, when it will be already too late.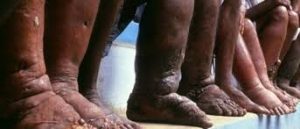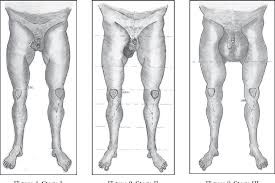 * Images of what filaria looks like when it is too late 
This was the case of 54 year- old Joy (not real name), who is a victim. While her condition is not due to negligence, since she was not exposed to campaigns  many years ago, she believes that making excuses and listening to myths are foolish choices and will only leave persons at risk for the disease. Speaking to this publication at her Mackenzie stall, in Linden, Joy said that her feet started swelling only in her thirties. It is about twenty years now she has been labeled as a 'big foot' woman, given the fact, that the disease is still stigmatized in our society.
"I use to ride, I actually was a professional rider. So when I see this swelling, I thought was some sort of injury, but this thing keep getting bigger and bigger. I said uhuh. Cuz this swelling in look like any normal swelling. I put ice, I rub red star. I try all kind thing. I ease with the riding and then about two months or so, I decide to check it up and they run test and thing and suh and they say is elephantiasis," Joy related. That news changed her life completely. That was the end of riding and the end of her career in the bauxite industry. She stayed in doors for sometime because she felt ashamed of her condition. "It took me a good while to catch back myself," but I had to get up and get out because I had my three children to mine, they were still small. I start selling, but I does wear mostly long clothes to cover it because people would stare and so. I don't really walk much. Just come out on a afternoon and sell my two fine thing."
Joy accesses treatment and care at the Upper Demerara Hospital where a clinic is designated to deal with filaria related cases. "The nurses there and so are nice, make you feel comfortable, help with cleaning and dressing and so, give medication." In addition to the Upper Demerara Hospital in Linden, care for lymphatic filariasis victims can be received at several medical centres, across the country. At home, she applies CARE, an acronym used to guide patients' treatment, standing for:
-Cleaning the area
-Applying Treatment
-Raising affected leg when siting and above the level of the head when lying down
-Exercises.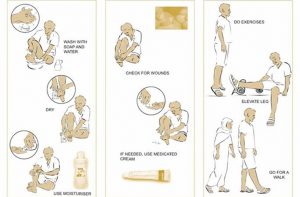 She also ensures she keeps protected by doing the following
Use treated net
Use mosquito repellents
Ensure stagnant water is not stored in your environment
Cover all water containers
Joy is urging everyone to take the pills, since she believes her life would have been different if she had gotten a chance to do so.
"I could have been probably representing Guyana in riding," she joked. "It is a serious thing, I won't wish it on anybody, and I encourage everyone, mothers to give their children the pills."
Further information of pill distribution can be heard on the Ministry's advertisements on all mass media platforms.