…Minister Lawrence urges vigilance
IN commemoration of World Suicide Prevention Day, the Ministry of Public Health, along with several stakeholders, held a march, from the Ministry of Public Health, Mental Health Unit, on Quamina Street, to the National Culture Centre where a ceremony was held.
In attendance were, Volda Ann Lawrence, Minister of Public Health; Dr. Shamdeo Persaud, Chief Medical Officer; Dr. William Adu Krow, Pan American Health Organization of the World Health Organization (PAHO/WHO) representative; Mr. Ray Davidson, Deputy British High Commissioner; and Dr. Util Richmond-Thomas, Director of the Mental Health Unit.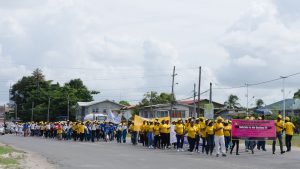 In her feature address, Minister Lawrence, explained that many Guyanese often ignore and contribute to the causes leading to suicide. Self-harm, an issue, which, for many years, Guyana has swept under the rug, deeming it as something that just happens in movies; bullying, another issue that Guyanese often call a part of our culture. Sexuality, problems fitting in, weight issues, abusive environments, and drug addiction are also issues that are ignored in the Guyanese society.
"We often miss the signs of suicide because we are busy texting and video chatting; we are busy using facetime and snapchat. We have put aside the face to face and the intimacy we once had with each other. We are always teasing each other and we say that 'it is we culture, it is who we are' but when we get down to it, it is insensitivity not realizing the hurt that this can cause" she said.
The minister urged Guyanese to be observant and pay attention to the signs of suicide and to be sensitive to the feelings of others so that we can eradicate suicide in our nation.
Dr. William Adu Krow expressed immense pleasure with the decrease in Guyana's suicide rate from 2014 to 2019.
" In 2014, Guyana was ranked the highest in the suicide rate in the world. I am happy that, to date, Guyana is ranked third. While this is progress, a lot more work is still to be done; for every death we have about 20-25 people who have attempted to harm themselves, that means for every year we have about 3,500 persons who attempted to harm themselves. We need to continue to do more so that when our new list is published, the rates will continue to go down" he explained.
Guyana had a suicide rate of 44.2 per 100,000 people, and that for every single female suicide victim there were 3.2 male suicide victims. While Guyana is still in the top five, there has been an immense decrease in the suicide rate.