THE Guyana Police Force (GPF) has installed 11 steel bins with covers along the seawall between Camp Road and the Bandstand, Eve Leary, as part of activities in observance of its 180th anniversary on Wednesday.
Finance Officer, Senior Superintendent Michael Sutton, said based on the commissioner of police directive that each division of the Force should do something significant for the anniversary, his department decided to focus on cleaning up that section of the seawall behind Eve Leary.
"This was compliments of my deputy, since it was her idea in choosing that we want to show the positive sides of the police that will benefit the environment," he said.
Senior Superintendent Sutton explained that the collaboration between the GPF and the Public Infrastructure Ministry resulted in 11 bins with covers and logos being placed along the seawall for use by visitors.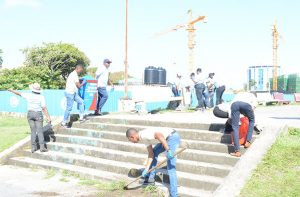 Meanwhile, Deputy Finance Officer, Superintendent Marcelene Washington, said the GPF wants to ensure that the dream of the head of state is realised where going green and protecting the environment is concerned.
"The added receptacles will ensure that the garbage is properly managed and disposed of and we can ensure that the environment is better for citizens since it is a recreational site," she said.
Commissioner of Police, Leslie James, in his message on the Force's 180th anniversary, noted that the GPF continues to surmount challenges by way of prevention in most cases of crimes, maintenance of law and order, preservation of the peace and effective traffic management, to name a few.
"We have to ensure that the Guyana Police Force continues to embrace best practices together with all the technological developments that contribute to better policing and eventually a sustained reduction in crime," the top cop stated.
However, the commissioner said the membership of the GPF is in excess of 7,000 persons, most of whom have been professional, law-abiding, conscientious and humble people.
"And for those who chose to run contrary, disciplinary actions have been taken against them. As we proceed further into 2019 and beyond, the administration seeks to strengthen those systems that will result in improved service to the communities and all citizens within Guyana," he said.
He continued: "We will seek to bolster our system of prosecution through the operationalisation of our Police Prosecutors' Coordinating Unit. We will operationalise our training board, which will evaluate and supervise revision of our training curricula as necessary. We will operationalise our Traffic
Advisory Board, which will evaluate our traffic management posture and coordinate appropriate improvement strategies. We will realign our divisional boundaries to the regional administrative boundaries to foster greater cooperation at the regional level as well as strengthen management of divisions and commitment by ranks."