THE eleventh Caribbean Organisation of Supreme Audit Institutions (CAROSAI) conference opened at the Ramada Hotel, on Monday, with Minister of Public Health and member of the Public Accounts Committee, Volda Lawrence saying that in order to ensure that no country is left behind CAROSAI must ensure that auditing standards, techniques and guidelines are in sync with international best practices.
"It means that irrespective of the geographical demographic of a notion, CAROSAI must ensure that the auditing standards and techniques are in sync and on par with international guidelines so that the Caribbean is not left behind, and our member states can optimise their auditing ability to derive the best possible outcome," she said.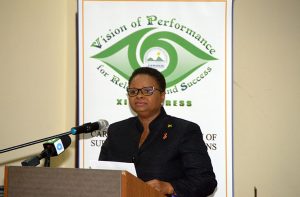 CAROSAI was encouraged to impress upon Governments of the region, the need to reform laws and legislations which are no longer relevant and which impede on progress. She said auditing or high quality financial reporting plays a pivotal role in capital markets, since it is essential to the effective and efficient functioning of the markets and more so the key to success in the respective economies. "Given its intrinsic value to the capital markets and the auditors' opinion upon which investors rely heavily, credibility, reliability transparency and relevance of audit must be paramount.
"I believe that the reforms to auditing are widespread…it is incumbent of CAROSAI to become au fait with these reforms and, in turn, apprise member states of same so that evaluations can be done on how those reforms can be utilised to enhance our audit mechanism," said Minister Lawrence.
Meanwhile, Chairman of the Public Accounts Committee (PAC), Irfaan Ali said that a twin approach is needed to modernise local audit systems. "On one hand we have to ensure we strengthen the existing system and ensure the system works and on the other hand we have to identify where we would like to be or where we ought to be and work from a different angle, to ensure that we build capacity now to get there and not necessarily work in a straight line manner," said Ali, in his remarks at the opening ceremony.
He believes that the twin approach will allow countries to leap frog into the future, employ the best technology and have the relevant human resource capacity. As the conference progresses, Ali said, they need to conduct a perfect analysis of the gaps which exist in the region, since these gaps do not regard auditing alone but, also include developmental gaps, national development priorities and differences within the region and how the audit institutions and framework are aligned for national and regional development.
"In examining the vision we need to understand where we are but, is where we are where we ought to be in today's environment? The challenge is how we get where we ought to be now in the shortest possible time so that we will be in real time, with real issues, in a real environment," said the PAC chairman.
Auditor General of Guyana, Deodat Sharma said the CAROSAI conference, which is held under the theme "vision of performance; for relevance and success," aims to highlight incredible contributions of member SAIs and success stories that would help to forge a better future for SAIs.
The presentations from June 23-27 will include a diversity of conversations from performance audits, debt management to investment needs and sustainable development goals, all in a continuous effort to strengthen the core values of professionalism, inclusiveness, partnership, credibility and accountability. "Occasions such as this provide a valuable opportunity for SAIs, other stakeholders and decision-makers to share experiences and make effective contributions, developing methods for high quality audits and enhanced SAI-stakeholder engagement for greater audit impact," said Sharma.
CAROSAI was formed in 1988 to promote understanding and co-operation among SAIs in the region. This body fortifies and strengthens the respective SAIs within the Caribbean region through training and continuing education. Exchange of audit techniques, audit programmes, standards and criteria for Public Sector Accounting are also fostered. CAROSAI prides itself on its core values of professionalism, inclusiveness, partnerships, credibility and accountability. Its membership is diversified and comprises of the 23 SAIs.