…with commissioning of a solar electrical system to help boost production
THE production of ham and sausage is steadily growing into big business in the Central Mahaicony community on the East Coast of Demerara. This is being done primarily through the Central Mahaicony/Perth Village Farmers' Association.
Farming is big business in this community and though a lot of the people can be considered 'academics,' having acquired high levels of education – even at the tertiary level, both locally and internationally– many of the folk have decided that farming is a vocation in which they should be involved.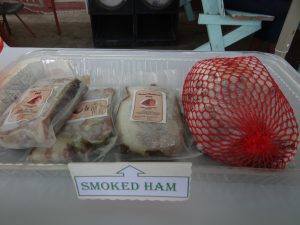 And so there was the establishment of the Central Mahaicony/Perth Village Farmers' Association, which has been in existence since 2005, with a membership of approximately 35 farm families. The association's farmers are engaged in both crop and livestock-based activities.
This association was formed and gained momentum after those serious losses when as a result of unusual heavy downpour of rainfall, coupled with severe flooding, most of their crops and livestock were lost. Therefore, because the major economic activity for many people within these communities is farming, a decision had to be made to prevent continued damage to the farms.
With the initiative of many of the members, including Gloria Adams, who leads the group as chairperson, they have continued to grow and have also gained the attention of government and international organisations.
Solar system
With the assistance of the New Zeeland government, the association was gifted a solar electrical system to help them reduce their cost of production, especially for the making of ham and sausages, which they have been advancing over a number of years now.
As a result, they were able to further their ability in acquiring a more upgraded marketing and processing outlet, which was improved with the assistance of Food For The Poor (Guyana) Inc., along with technical assistance from IICA.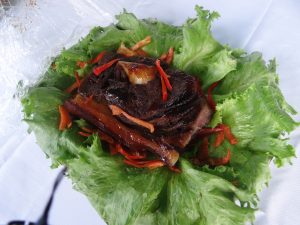 "There will be a definite reduction in the cost of electricity, which would translate into less input and a definite increase in output in terms of cost of production in the goods that we generate," a member of the association, Violet Henry, stated.
Pork and folk festival
This farmers' association has also established themselves with the annual holding of a pork and folk festival, which is usually held at the Mahaicony association's office. This activity started soon after the group was established and there is usually a variety of farmers' produce, agro-processed items, and a variety of foods, cakes, pastries, coconut water, prepared and bottled within the group, drinks and other products on sale.
However, emphasis is deliberately placed on pork and pork products, which are prepared by members of the association. Gloria Adams, who is considered the matriarch of the group, led the way with her preparation of hams, bacon and other pork products.
There are also other cooked items such as pork pepperpot, stewed pork, curried pork and pork in every other possible form – some as samples and other items for sale.
This folk festival is an activity that many villagers look forward to experiencing and it is generally reported as being of tremendous success. And while members of the association continue to work hard and shine as farmers, they are also saying that the next such event cannot come fast enough for them to do even better than the last time.
Saturday market day
According to Adams, while the orders for sausage and ham products tend to intensify at Christmas , there are still the regular orders that she and other members of the group receive throughout the year. However, she stated that she would be happy to see this aspect of what they do as a farmers' group gain momentum – even when Christmas may not be approaching.
She mentioned that there are the regular wholesale and retail markets, which is also held outside of the association's office on Saturdays, and which has been a huge success so far.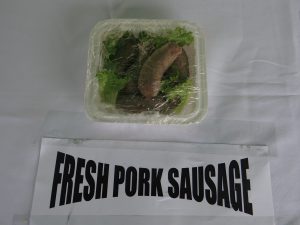 Members of the group stated that at the market, they are able to sell ham and sausages by orders and that these orders are usually made in advance. Additionally, they are able to sell a lot of their agro-processed items such as a variety of pepper sauces; different kinds of ground fruits; ground seasoning; pickles, and a variety of other items. There are also vegetables and fruits in abundance on sale.
Eager anticipation
According to Adams, the association's members are eagerly looking forward to benefitting from advanced training, this time, in being taught how to process pickled pork. "An Iowa State University group, headed by Aubrey DeMendonca has plans to come to Guyana in July to train us in the making of this product. He has helped train us in so many products before and here it is that he is coming to help us once more. We are very grateful," she said.