IN the short life that I lived, I have been a part of many groups, some of which included the fact that my colleagues and I held the same positions; we were equals- or we were supposed to be. When it came down to public opinion, people thought my male colleagues were the leaders. Or whatever reason it may be, I have always felt a strong force against me by something that is imaginary to most: male privilege. It is true that males are somewhat 'superior' in society compared to women and other genders.
To simplify it, according to the website itspronouncedmetrosexual.com: you can decide to not have children and not have your masculinity questioned, every major religion in the world is led by your gender, you can run for political office without having to use your gender in your platform or a decision to hire you would not be based on whether the employer assumes you will be having children in the near future.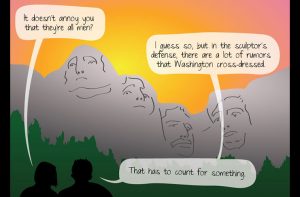 In Guyana, it is evident in the way that the majority of our men can choose to get married at a later age or to have sex before marriage and not be scrutinised for it or in the instances where some women have to wear wedding rings although they are not to presume respect from other men, as if marrying a man is the only way she can receive it; or perhaps in the way that our cleaners and secretaries are females but most of our CEOS and Executives are males.
I have always been annoyed when people refuse to acknowledge that male privilege is an actual thing. The fact that after many years of civilisation, we are still assuming the title, "first female ever to…" (yes, males have that too) but there are many major positions that have never been filled by a female. The past Presidents and Vice Presidents of the United States of America, the past heads of the FBI, all members of the Catholic clergy, the United Nations secretary generals are all MEN. While we can applaud the late Mrs. Janet Jagan for being our first female president, one can only wonder on the controversy of her not being there without the death of her husband, the late President Cheddi Jagan.
In countries like China and India, the poverty-ridden communities have higher rates of female infanticides (killing of baby girls) and female foeticides (abortion of baby girls). It is a belief that boys will be more economically wise to rear than females because males are seen as better providers for the family. On a domestic scale, we can look at the way the males are often seen as the breadwinners in Guyanese homes. Perhaps, it was not by choice but by a reason of getting higher wages or by the fact that they can actually find a job compared to their female counterparts.
All in all, if you think the tooth fairy and male privilege has the same attribute of being non-existent then I respect your opinion, maybe a full concept cannot be developed but there is evidence of it in our everyday lives. I was astonished by the limited reviews the internet has on this topic as I was researching to write on it. With privilege, comes power.
No one gives up power easily. As such, it will always be a struggle to fight against it. Even the men who are aware that they are privileged to be born male will still most likely turn a blind eye. 'Privilege is when you think something is not a problem because it's not a problem to you personally' and until my male friends realise that they are even privileged to walk out late at nights, move to the city or another country or even lose their virginity without society or even their parents yelling in the back, 'Girl chirren not fi do that' or 'you're a girl child' then I won't back down on my beliefs either.