THE Free University of Guyana (UG) movement began taking shape at the UG's Turkeyen Campus on Friday as a walkout exercise was held to raise awareness on the matter.
Recently, an informal group of young people have banded together into what is called the "Free University of Guyana Movement". On Friday, members of the movement and of the University of Guyana Student Society (UGSS) staged the walkout exercise from about 16:15hrs, for 15 minutes. "The purpose of the event was to just give students the chance to see some of the tangible efforts being made… we want students to interact with the free UG movement and with the concept in a more concrete way," said member of the movement and advocate for 'Free UG', Elson Lowe.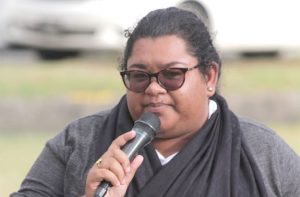 The young man had previously explained to the Guyana Chronicle that the intention of the group was to bring UG into "compliance" with the constitution. Article 27 of the Constitution of Guyana states: "Every citizen has the right to a free education from nursery to university as well as at non-formal places where opportunities are provided for education and training."
President of the UGSS, Devta Ramroop, however, shared that the constitution provides for more than just 'free UG', but that all public tertiary education should be free. And now, according to her, the group has to raise awareness among students of UG and of other tertiary institutions.
"This is not just about UG though, the constitution says free tertiary education. So we might have to go into secondary schools that provide tertiary education and technical institutes that offer tertiary education," she said.
The event attracted about 50 persons, and Devta noted that while she expected more students to show their support, the bodies will use this as a learning experience and strategies for future engagements. "If you really want to get to this generation, you have to use social media and go to them," she said. Leader of the newly-formed Liberty and Justice Party, Lenox Shuman was in attendance to show his support for the movement.
"UG, as the premier institution in Guyana, has a responsibility to Guyana, and a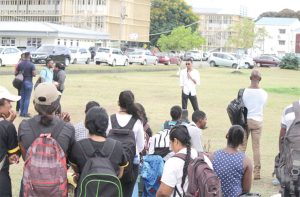 responsibility to respect the constitution," he told the gathering. And according to him, education is particularly important in the context of Guyana's developmental trajectory and focus should be given to encouraging more persons to access it. And not only is education important in the context of economic development, he affirmed: "You would also find that any educated society is also a politically stable society.
POLITICAL SUPPORT
In this context, Shuman opined that all political leaders should meet with the students and the advocates for free tertiary education in a meaningful manner and let their position on the topic be known. "As it concerns political parties, we want to ensure that we reach out to all political parties," Lowe said and added: "We want to ensure that we continue to receive support in all sectors as we go forward." The Alliance For Change (AFC) is one political party that made known that it supports the use of revenues derived from oil production in 2020 to provide free education to all Guyanese.