This week on Focus on the Village, we look at the budding community of Beterverwagting (called 'BV' for short) located on the East Coast of Demerara. Stories by M Margaret Burke.
POSSIBLY still having that ancestral connectedness of camaraderie, plus the grit needed to move the village on, the village of Beterverwagting has moved in many directions, but certainly not downward. This village is located on the East Coast of Demerara, just about 10 miles away from Georgetown and there are two roads by which people may access the village.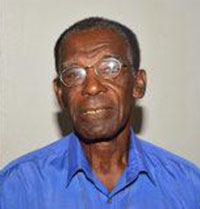 Bruce Granville Adams, born and bred in the village of Beterverwagting is now 80 years old with a wealth of knowledge about the village and its people. He told the Pepperpot Magazine that he has never really lived outside of the village, except when he had a job to perform for whatever time it would have lasted.
"I went to nursery, primary and secondary schools right here in the village, so I was educated right here. Then the first job I did was in local government, where I was an office clerk at the BV/Triumph village office, which was in the days of Mr. Paul Slowe Sr. and Mr. Cyril Duncan – those stalwarts that have gone to the great beyond," he said.
He subsequently went to Linden and then returned and worked for 10 years as a Village Overseer in Central Mahaicony – a job he had previously applied for. He said he learnt a lot on the job and so when BV wanted an Overseer or Chief Executive Officer he applied and was accepted back. This move saw him returning back to his home village, something he was very happy about.
Adams said that he worked in the position for about 12 years, after which the system of local government changed in 1969, at which time the entire council was dissolved. The change, he said, caused him to seek employment elsewhere and so he went to insurance as an Underwriter for about 23 years at the North American Life Insurance Company (NALICO), moving up to the position of Unit Manager and later Agency Manager when NALICO was sold over to Beharry, serving an additional four years.
Granville Park
He said that during that time (in 2004) local government elections were held at the village council in BV, which he contested as Chairman of the BV Development Association. I won that election, formed a council and served there from 2004 to 2015.
Adams said that one of his greatest achievements was the creation of the Granville Park, which was named after him. He explained that a team formed a trusteeship and bought the land from the village. This was because when the old men were leaving they gave us the mandate to develop the area, which he said was originally bought by slaves.
May 8, 1839
Adams said that it was important for the younger generation to understand the role their ancestors played, not only in owning the villages of Beterverwagting and Triumph but of all the other villages that were systematically bought by the ex-slaves.
"In those days when the sum of $52 000 would have been a whole lot of money – equivalent to millions now. Sixty-two slaves did just as the villages of Victoria and others- pooled their money and did a trusted transaction, by giving it over to Mr. Baron Von Gronigen as a purchase price for cotton plantation Beterverwagting. This was on the 8th day of May in the year 1839," he said.
Most of the earnings of the ex-slaves were sacrificially saved; pooled together and placed in the hands of one man, who hid the money in a hole under the tamarind tree.
Transforming the village
Since the village became a 'free' place, being able to apply independent and resourceful initiatives to what is offered as services and produce; there has been no stopping what can be achieved in the villages of Beterverwagting and Triumph.
Adams has said that while there has been development at every sphere of life in the villages, farming has stood out throughout the ages as one of the constant economic activities that have not failed.
Additionally, men and women continue to work in the fields in and out of the village; doing work such as carpentry, masonry, plumbing, engineering and, where necessary, availing themselves to learn new skills that can improve their lives.
"I believe in education and I myself made every effort to improve my life. Now I am seeing what a lot of our young people are doing with the opportunities that are available to them…schools, university, skills-training places and a host of other facilities are becoming available to the younger generation to assist them in becoming better people," he stated.
He added that with the dawn of the oil and gas sector that is almost on stream there is much more scope for development, not just of the country but for each and every Guyanese, and urged the people in his community to make the best of it.
"Recognising that I am getting down in age, I have already stepped aside, even with the local government and NDC, giving the younger ones such as the current chairman, Mr. Bagot a charge to do well. Therefore, I am encouraging all my fellow countrymen, especially from BV, where I was born and bred to take up the mantle and do your best. Beterverwagting is a Dutch name which can be interpreted as, 'better for walk in' and so walk in and do your best for your village," he said.