A 52-year-old man lost his life after the motorcycle he was riding allegedly collided with a canter that was reversing on to the Betsy Ground Public Road.
The incident occurred at approximately 12:30hrs on Friday. Dead is Rajendranauth Harold Singh of Lot 28 Reliance Abandon, East Canje, Berbice. According to the Police, investigations revealed that the driver of the canter was reversing west out of his yard towards the public road when the motor cycle bearing registration number CF1615, which was proceeding north, collided with the right side rear of the canter.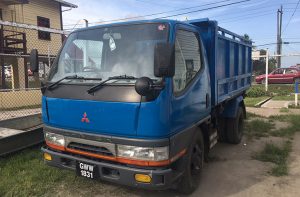 Due to the impact of the crash, Singh was flung a short distance away where he landed on the western parapet. He reportedly received severe head injuries. The man was taken to the New Amsterdam Hospital where he succumbed to his injuries.
An eyewitness recalled hearing the loud impact of the crash and then seeing the lifeless body of Singh lying on the parapet. "He was big built. I think when he fall with that pressure the weight ruptured his inside."
According to reports, the man was returning home from work when the accident occurred. He was employed as a supervisor with a private contracting company. At his home family gathered, but asked the media to respect their decision not to speak. The 36-year-old driver truck driver was identified as Marvin. He is currently in police custody assisting with investigations. A breathalyzer test was done which found no presence of alcohol.