– President Granger says at Heritage Day celebration
VILLAGES such as Shulinab, located in the Upper Takutu-Upper Essequibo Region (Region Nine) must strive to realise their economic potential, President David Granger said Saturday at this year's Indigenous Heritage Day celebration.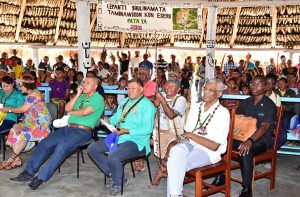 The President focused his speech on economic prosperity, as he presented $5 million dollars to the village's Toshao Nicholas Fredericks for the enhancement of his village.
Shulinab is expected to become a model community, said the head of state, who noted that the village has the human and natural resources to realise its true potential. He pointed to the village's natural attractions, fertile farmlands and grasslands, vibrant community groups and leadership.
"Shulinab is a forward-looking village, not a sleepy outpost," said President Granger, who urged the residents of Shulinab to be proud of their heritage and patrimony. Shulinab, he said, must utilise its resources to enhance the livelihoods of its residents.
He reminded that Shulinab has lands for the development of a strong livestock and dairy sector and is also the home of some of the rarest birds, including the Red Siskin and the Ruby Topaz. The President believes that the development of Shulinab's eco-tourism will attract more persons to the village to bask in the village's scenic beauty.
Noting that he is concerned about the economy of villages, President Granger said he would like to see Shulinab become "an economic powerhouse," while pointing to Village Improvement Plans (VIPs) aimed at alleviating hinterland poverty and empowering hinterland citizens.
"There must be greater consultation within the community. So if you are to make this Village Improvement Plan work, villagers have to share. There must be greater collaboration, cooperation with the region and the central government…villages are here to stay. As President I have to protect the village economy and I do believe that the villages are the springboard to prosperity," he stated.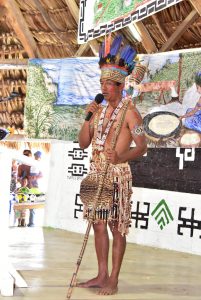 The President stressed the need for there to be equality between the hinterland and coastland. He noted that villages not only in the hinterland, but also on the coast are being empowered to become centerpieces of development, so that residents would no longer need to leave to avoid poverty.
As such, he noted that the revitalisation of villages is a means of ensuring sustainable and secure livelihoods, as well as village democracy and stronger village economies. "I am concerned about the strength of the economy," he stated, while noting that when next he returns to the community, he hopes to see the motto, "Proud of our economy, celebrating our prosperity."
"We live economic lives and in the final analysis, it is how we manage our economy that will determine whether we can enjoy that good life. That is why I am pleased to hear your toshao discuss the agricultural potential of this community," the head-of-state said.
He noted too that food security is important, because the Rupununi is susceptible to drought and floods and sometimes "you get too much of one and sometimes too much of the other."
"But we must be able to ensure that food production continues, whether there is flood or drought," President Granger stated, while adding that in a few days' time there will be over five dozen members of the Brazilian Construction Engineering Battalion here, who would be working in the South Rupununi to help provide water security.  At the end of the project, several indigenous villages will have wells throughout the year, whether there is drought or not.
REMOVING UNCERTAINTY
"It is very important to remove the cycle of uncertainty; once you have the wells and water for your animals and crops, you can move closer to food security and this will give you the basis of promoting your livestock-rearing," stated President Granger.  He said there is need to work towards improving not only livestock- rearing, but pasturage also.
"All of these things have an economic basis, because it will help to make agriculture more secure and profitable for Shulinab. Most of all, I want to see in Shulinab, equality. If people are very poor, they don't have the same opportunities as people who are rich. If people are very poor, they can't decide to go to secondary school in Georgetown, you can't decide to buy all the books you need," the President added, while pointing the levels of school drop-outs.
In this regard, the President pointed to his 5Bs initiative, which is aimed at improving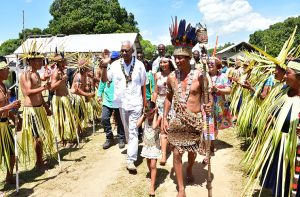 attendance in school. Thus far, there are 27 buses and 11 boats taking children to school free across the country. "Education is the basis of equality," President Granger declared.
Additionally, President Granger called on residents of Shulinab to be vigilant, while describing the community as "one of the frontier villages" while referencing Venezuelan migrants who have since come to Guyana through the Barima-Waini region.
"Guyana has accommodated many of the [Venezuelan] migrants, but I urge the toshao and the residents of Shulinab and all the villages along this border to be vigilant; we are not chasing anyone," he stated, while making it clear that things must be done in an orderly manner.
SECURITY OF RESIDENTS
President Granger continued: "We are concerned about the safety of our citizens and we do not want bandits or Syndicatos to come into this region; this has happened in the Barima-Waini region, Cuyuni-Mazaruni region and I don't want it to happen in the Rupununi region. People have been attacked, murdered… some of them have brought diseases, measles, malaria. We have to be very cautious so that as we move forward, we must not make the mistake of ignoring some of the threats to our national security as well. I am concerned about the safety of our citizens and if there is any threat we need to respond very quickly."
Toshao of Shulinab and Chairman of the National Toshaos Council, Nicholas Fredericks, called on residents to work in unity for the betterment of the indigenous peoples and particularly children.
"We have to reflect on the important values that we have contributed towards building this very important nation. It is with that reflection that we celebrate and we want to make sure our celebrations are more meaningful, realistic [and] that would lead us to an end result that will be positive for both the government and us the indigenous people as we move forward."
Fredericks said progress is not without its challenges, but called on residents to overcome those challenges by working towards solutions in a friendly way "and not to point fingers and criticise negatively, but to criticise with positive recommendations.
"For too long we have been divided, we have been fighting among each other because of religion, race, but we the indigenous people are going to work with your government," the toshao stated.
Other speakers at today's Heritage Day celebration included Ministers of Indigenous Peoples' Affairs, Sydney Allicock and Valerie Garrido-Lowe; Regional Chairman Brian Allicock and Cyril Solomon of the South Rupununi Development Council. They all alluded to the achievements of the people of Region Nine.
President Granger was treated to a warm cultural welcome by the people of Shulinab, after which he visited several local booths which were on display by the Shulinab Women's Groups, the South Rupununi District Council and the Konashen Amerindian Protected Area group, among others.
Minister of Social Cohesion, Dr George Norton, Consul-General for Guyana in Roraima and other Northern States of Brazil, Shirley Melville and Artist George Simon also attended the Heritage Day celebration.