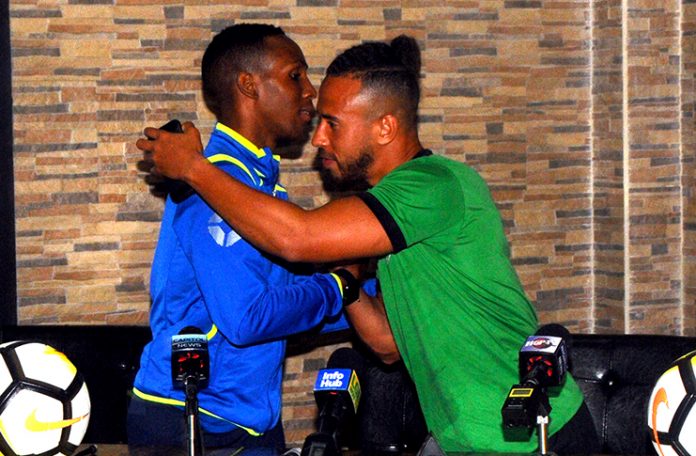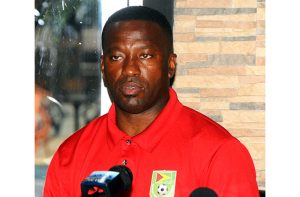 IT was obvious from the pre-game press conference that the only thing on the minds of Guyana and Barbados for tonight's CONCACAF Nations League encounter is victory.
The two sides will square-off from 19:00hrs at the National Track and Field Centre at Leonora, in their opening campaign of the newly established tournament, which serves as a pathway to the CONCACAF Gold Cup.
In 2015, the last time the 'Tridents' faced the Golden Jaguars, the game ended 2-2. But in actuality March 6, 1999, (19 years ago) marked the last time Barbados defeated Guyana (2-0), in Bridgetown during the Caribbean Football Union (CFU) Caribbean Cup. 
"That was yesterday, and at the end of the day, the reason why I'm here is to change that," Barbados' Ahmed Mohamed said when asked about history not being on his team's side when it comes to football and a favourable result against Guyana.
"We are ready for Guyana; something will happen and something will change," Mohamed stated, while adding that his team has been putting in the groundwork for a very long time, knowing the challenge which lies ahead requires exceptional preparation.
Mohamed acknowledged that on paper, Guyana's team, with the boost of their overseas-based players, could be seen as formidable opposition in contrast to a youthful Barbados side. However, the 'Bajan' coach is taking comfort in the team preparation done, leading up to the Nations League, where they faced the likes of Jamaica, Cuba and Belize.
"We have a very young team, we know the average age of the Guyana team but I don't really see the difference because my players have been training for two years together now. We played enough games that we can say we are ready for the Guyanese team. The age doesn't matter, the fact is the team has enough experience to deliver a good performance tomorrow night (tonight)," the 'Bajan' coach said.
Following today's game against the Golden Jaguars, Barbados will face El Salvador on October 13, U.S. Virgin Islands (USVI) on November 18, and will wrap-up their Nations League qualifier on March 24, 2019 against Nicaragua.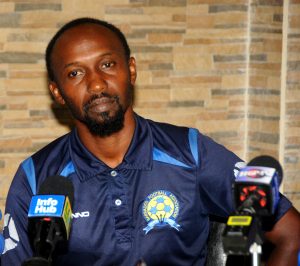 Meanwhile, for Michael Johnson, the former Jamaica International and Derby County defender who was recently named Guyana's head coach, his troops are only focused on securing three points at end of the 90 minutes at Leonora.
"What you'll see tonight is a team that's confident; this team is a team that has a lot of attacking players that if you release the shackles off then we could be a real threat. So I'm excited about what tomorrow (tonight) brings and also for the future," Johnson boldly proclaimed.
Standing in Johnson's path to the Gold Cup, apart from Barbados, are Turks and Caicos (October 13), French Guiana (November 20) and Belize (March, 2019). The Golden Jaguars boss made it clear that the route to the 16-team tournament in the USA next year will not be an easy one.
"I think we would be disrespectful to overlook teams in the competition, but what I could say is that we have a wonderful opportunity (to qualify) and if we embrace that, and if we work hard, work smarter, then I really believe that with the group of players we have, we will be competitive and we have a great opportunity to do something special," a confident Johnson said.
Neil Danns, the former Leicester City and Crystal Palace midfield maestro, will lead a Golden Jaguars squad that also include debutant Ronayne Marsh-Brown, an England-based solid left-side defensive option.
Kai McKenzie-Lyle, the 20-year-old Barnet FC goalkeeper who, according to reports, was on coach Jurgen Klopp's radar for a move to Liverpool, will also be making his return to the Golden Jaguars line-up.
Defenders Terence Vancooten, Samuel Cox and Jake Newton, are the 'UK bunch' included in the team, while the other overseas-based players named are Brandon Beresford (Portugal), Andrew Murray (Trinidad), Sheldon Holder (Trinidad), Trayon Bobb (Portugal) and Jelani Smith (Canada).
Jason Cromwell (Buxton United), Akel Clarke (Western Tigers), Kevin Layne (NA United), Kevin Dundas (Den Amstel), Kester Jacobs (Den Amstel), Delwin Fraser (GDF), Vurlon Mills (Western Tigers), Daniel Wilson (Western Tigers), Delon Lanferman (Den Amstel), Kelsey Benjamin (Western Tigers) and Pernell Schultz (Western Tigers) are the other players named in the squad.