AÇAÍ berries are new to many Guyanese. In fact, many people living where the fruits can be located still think of it as dangerous for human consumption and that it is a poisonous fruit.
In fact, when passing through streams of what many call 'sweet-water or black-water' rivers in Guyana, bunches of these fruits, connected the 'brooms' of the açaí palm trees, can be found hanging over these streams.
The reddish-purple fruit appears lovely and more like a decorative setting over the streams. They bear resemblance to the other berries such as the blueberries, blackberries, raspberries, cranberries and strawberries.
However, some studies have disclosed that the açaí fruit pulp is much richer and more nutritious that the others.
A midwife by profession and one, who is well-known, loved and respected in the Charity, Sirikie Pomeroon-Supenaam area is Vanessa D'Aguiar, a mother of four. She is also a friend and a community worker.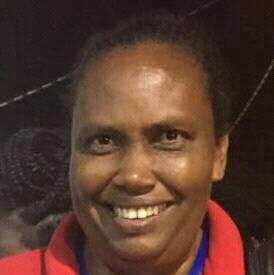 D'Aguiar has lived in the Pomeroon all her life and after writing the national grade six examinations, she gained a place at the Anna Regina Multilateral Secondary School, where she gained several subjects at the CXC examinations.
Wanting to take up the nursing profession, she was eventually accepted for training as a nurse and subsequently a midwife (obstetrics) in Georgetown.
However, she still steered her skills right back to the community where she was born and bred, to serve.
"Having been exposed to farming all my life because most of my community strives on farming, even though I always had an interest in becoming a nurse, I was always been involved in farming in and out, I always had an interest in it," D'Aguiar said.
AGRO-PROCESSING
"I like agro-processing and so I started with the açaí berries. What gained my attention was when I went to a workshop and the guy told me that he had this 'manicole' drink, [another name for açaí], which was made from the manicole palm (known in Guyana as the heart of palm). Later, when the creek was dredging out I saw a ripe bunch and so I decided to pick it and experiment on it. I then gave some persons within the community to taste and they told me that it tasted good.
"Anyway, in times past I always thought that this thing was a poison, I never know the benefits of it. So once I found out I continued to make it and got more ideas and got better and better with it, making juice," she proudly said.
D'Aguiar told the Guyana Chronicle that after a visit to her community by a staff from the Ministry of Agriculture, she had about 12 different fruit wines, including Manicole wine.
""Manicole wine?" he asked, and I said yes and then he tasted it and said, "This thing taste good!" He encouraged me to continue making it," she reported.
She explained that she continued to do it manually, concentrating more on the wine and not just the juice and getting sales for it in Georgetown, even though it was tough since the only way she had to do it was manually.
"Eventually, Dr. Maxine Parris from IICA visited the community and she helped me to get the necessary equipment so as to be able to extract the juice, and eventually not making the juice and the pulp from it, I started making the wine more, which was a longer process. I even got some purchased by Sterling to mix in their ice-cream," she explained.
When this publication visited her agro-processing industry in the Pomeroon, she had on display many bottles of the Manicole or Açaí berry wine, the Açaí liqueur, Açaí juice and the Açaí powder for making beverage. In stock also was a variety of fruits used for making cakes and other sweet foods or sweet 'meats'. These included fruits from sorrel and carambola.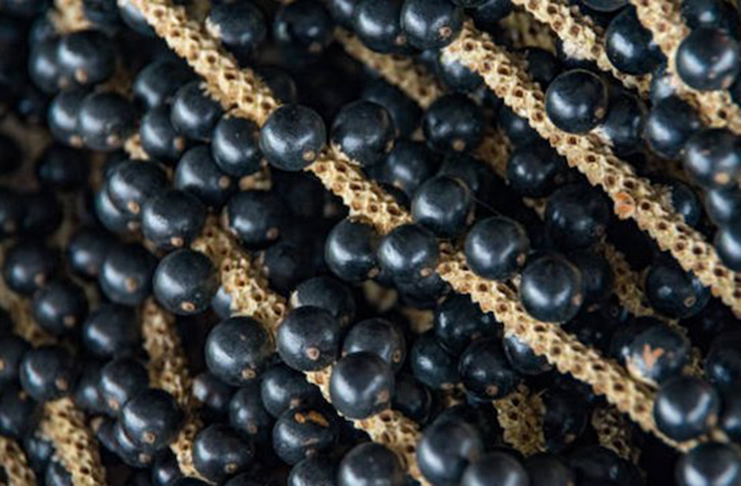 "Eventually, when I did my own research then I realised that the berries have been wasted for so many years. It is in season early and late in the year, but the palm tree is not ever destroyed when it is cut by the 'brooms' to get the bunches of berries.
"The açaí palm trees reproduce themselves through suckers that come up every time they are cut – there is no harvest and destruction going on, it produces more every time," D'Aguiar assured.
D'Aguiar stated that even though the berries are not as much in season, she is able to use whatever additional fruits are available in the community to constantly make dried fruits and wines once time is available to her.
She reminded that as a nurse and midwife she also has other responsibilities, but with most of her spare time, she makes the time to put her other trade to the wheels.
CHALLENGES
"I have most of the fruits to my disposal for making from fruits to wines, I even have the machinery at my disposal and this makes my work so much easier and I a very thankful," D'Aguiar said.
She, however, indicated that her major challenge is the amount of containers she is able to acquire to put some of her produce.
She stated that she has not yet been able to acquire as much large-size containers that she needs at this time. Additionally, all of the wines she produces must be stored in glass bottles, and this she said, continues to pose real problems for her.
The rainy weather, she said, can pose a problem for the drying and ripening fruits from time to time, but generally the rains have worked well for the growth of many of the fruits she uses to make her produce, she concluded.