STREET dwellers were the beneficiaries of footwear and clothing from the Men's Ministries of the Mocha/Arcadia Seventh Day Adventist Church on Saturday.
The men and women who dwell on the streets near the Stabroek Market areas were filled with joy as they collected footwear or new pieces of clothing.
Leader of the men's ministries, Carl DeMattos said the distribution was part of the church's way of giving back to society.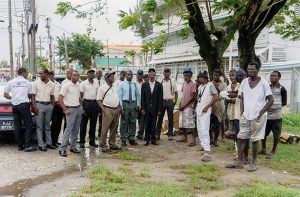 "We believe that we should be attentive to humanitarian needs," he said. "Some of the folks out here are without footwear, so we decided to give them some, as well as clothes."
Although many persons received the distributions, there were some who were not as fortunate, so DeMattos said they intend to revisit the area later this year.
This is not the first time that the group has done humanitarian work. Every year they give back to theirs and other communities in different ways.