THE Rupununi Music and Arts Festival, billed for February 16 to 18 at the Manari Ranch in Lethem, Region Nine, was officially launched on Friday at the Colgrain House in Georgetown. The festival weekend has seen performers from Ukraine and the United Kingdom in the past, and will possibly feature groups from Jamaica, Canada and Suriname this time around.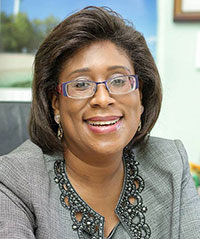 Minister of Public Telecommunications, Catherine Hughes attended the ceremony and was high in praise for it, owing to her personal experience of attending a previous festival.      "It's a moving experience because it's not just music which is a powerful unifying role in any country or part of the world. But the fact is, this is music with depth that allows you to experience a culture," she said, adding, "I say to any family or any Guyanese, this is a wonderful opportunity to pick up your tent if you do not have an accommodation; go camp in a safe, beautiful, natural environment."
The government, through the Ministry of Indigenous People's Affairs has contributed $5M to the festival. Festival Director, Bob Ramdhani offered that a number of events are planned so that those attending can be engaged throughout the day.      "During the day, we wish to create space between 10 to 4 pm so that visitors to the festival can leave if they choose to and visit the neighbourhood and other sites and places of interest within the Rupununi. But for those who are staying on site all day between 10 and 4, we will have arts and music and reading workshops so people are engaged all the time," he explained.
Also in attendance were Carl Bowen from Fly Jamaica, Permanent Secretary of the Ministry of Indigenous People's Affairs, Alfred King, and representatives of the Guyana Tourism Authority (GTA).
The launch also featured live performances from local rock musician, Gavin Mendonca and Jaime 'Suru' Mayers from Jazz and Poetry on a Stool.  King commended the organisers of the festival. "In terms of nature, adventure and eco-tourism, I believe this one offers that refreshing opportunity for people to leave the built-up city." According to him, the festival is expected to create jobs for some 80 persons in the region. The festival has been relocated from the Rock View Lodge in Anai for a number of reasons, Mendonca, one of the organisers, told Chronicle recently.
"This is the first time we will be using Manari Ranch which is just about 20 minutes outside of Lethem. From Lethem, it is easy to get ground transportation to the ranch. So we expect a lot more patrons because it is so close to Lethem and the Brazilian border," he said. The festival is intended to bring people and cultures together. "It's really about bringing people together, to cut out bad vibes and to encourage positivity among each other. We hope that over the years this will have a subliminal effect on the way people think; the way they approach life," Mendonca expressed.
While Guyanese culture will be a big part of it – especially the indigenous culture- he explained that the organisers will also borrow architectural designs from Morocco, Latin America and other countries.
"This is so that we can really make it a world music site but still yet identifiable as a Guyanese site. People must know that they're in Guyana but still experience cultures from around the world," he said.
The ranch, which is being developed from scratch in terms of a stage and other facilities conducive to holding a successful festival, is intended to become a fully functioning entity all year round so that it will be possible for smaller events to be held like folk festivals, Brazilian festivals, indigenous events, rock festivals, and cultural workshops, among others.