THE Diamond Upsetters Football Club (DUFC), a new affiliate of the East Bank Football Association (EBFA) on Saturday afternoon last at the Diamond Community Centre, recognised the efforts of their Under-11 team which ended fourth in the just concluded Ralph Green/EBFA Under-11 League.
In its first year of competition since being formed, the club has announced its presence in no uncertain manner as a real contender in the EBFA, but more importantly, is striving to ensure that the youths in the Diamond area are guided in the right way and in this instance, through football.
The awards ceremony which saw Coach Kevin Padmore Snr. being complimented for his efforts in guiding the team, also saw the players being presented with their participatory medals for the U-11 tournament.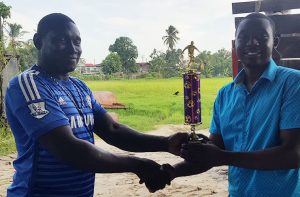 DUFC's Joshua Dias ended the league as the best goalkeeper and was presented with his trophy and backpack, one of five individual awardees for the league; the others being Most Disciplined, Most Promising, Most Valuable Player and Highest Goal Scorer.
President of the EBFA, Franklin Wilson, was on hand to present Dias with his prize, as well as the medals to the other beaming and proud players. Wilson commended the players, club executives and coach for joining the EBFA fray and for their commendable showing in the competition.
The club was encouraged to keep up the good work and to encourage parents to become more involved in its operations whilst ensuring that the players make their education a priority to ensure that balance with their footballing pursuits.
DUFC's President, Andre Fortune also complimented his players for showing that they will be a force to reckon with in East Bank football in the coming months and years. Fortune thanked Coach Kevin Padmore for his exemplary work in guiding the youths and ensuring that they are rounded up almost daily to train and play.
Assistant Coach Troy December was also singled out for special mention and for his support to Coach Padmore.
"I would like to urge the other players at the various levels of this still fledgling club to emulate the example set by our U-11 players and work very hard to build this club into one that is competitive. I applaud your commitment and dedication and look forward to a successful 2018." Fortune concluded.
Dr. Gerald Forde and Club Secretary, Ms. Hazel Fernandes were also on hand, along with Under-15 and senior players at Saturday's function.
The club will now focus their attention on the GFF/Pele Alumni Frank Watson U-15 Intra Association League which will start this Saturday with the March Past and a double-header at the Grove Playfield.