WITH his arms outstretched as he crossed the finishing line, and falling to his knees in celebration when it was all over, North Georgetown's Rickie Williams celebrated his win of the boys' open 10km road race in dramatic style after recording the first victory at the 57th National Schools' Cycling, Swimming and Track and Field Championships, which officially began yesterday at the National Track and Field Centre on the West Coast of Demerara.
The race was a good opening morale boost for North Georgetown, which once again faces an uphill battle in trying to wrestle back the Championship title from long time arch rival, Upper Demerara/Kwakwani (District 10).
The win was also a long-awaited redress for Williams, who still feels that he was unfairly unseated in the same event last year when he represented District 1, and the race was won by District 6's Delroy Leitch.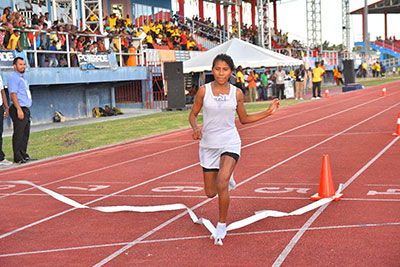 This year Williams came out gunning with a plan, and ensured he did everything in his power to secure his win; and he did so with a massive lead ahead of the rest of the competition, clocking a time of 35 minutes and 32 seconds.
"The race was good. I went out there with a plan and I'm glad I was able to stick to it. The plan was to run the first 7km not too hard, and then the last 3km hard," Williams told reporters after the victory.
His next event will be the 5000m on Friday and he's very much excited to take another win when the time comes around.
Second place for the 10km road race went to South Georgetown's (District 13) Mathew McKenzie, who clocked 36 minutes and 20 seconds. Rupununi's (District 9) Garvin Stephan took the final podium position with a time of 36 minutes and 49 seconds.
The first female to enter the NTAFC in the 10km road race was District 9's Margaret Augusto, who claimed her win with much support from the animated crowd that came out to witness the opening of the Championships.
Augusto's time in the event was unavailable up to press time. The other results of the other female competitors were also unavailable. The 10km road race ran concurrently to the opening ceremony for the Championships, after which the heats of the 800m races were run off.
However, aside from the two 10km, the day also saw the completion of four other finals. However, again no results were made available by the Guyana Teachers Union.
The Championships continue tomorrow with swimming at the National Aquatic Centre, and cycling at the National Park. Both events begin at 9.00hrs.
The track and field competition continues at the NTAFC from Tuesday and runs until Friday; starting at 10.00hrs daily.