WITH hard work and persistence, Laketa Mc Phoy's childhood dream of becoming a flight attendant came through but it was not easy and this young professional credits her achievement to prayers and her belief in never giving up.
This Kara Kara, Linden, resident told the Pepperpot Magazine that her dream came through after she successfully completed a six-week training course by Fly Jamaica in Guyana. She later went on to complete the tactical aspect of that training in Miami,which lasted for three days.
She commenced duty as a flight attendant in March 2017 with the local Guyana office of Fly Jamaica.
Mc Phoy said that this dream of hers became a reality just as she was about to give up and she is very thankful things turned out the way they did due to hard work coupled with the will to succeed.
She described the flight attendant training as rigorous, during which she endured daily exams and sleepless nights studying, but it was all worth it.
Mc Phoy related that once you put your all into something, you will be successful if you believe in yourself and that once you apply yourself diligently, it can happen for anyone.
This 28-year-old beauty comes from a pageantry and customer service background and the traits learned in these areas became a plus for her in becoming a flight attendant.
Mc Phoy was the Second runner-up for Miss Jamzone, Guyana 2012, First runner-up at Miss Linden Town Week, 2013 and Second runner-up at Miss Guyana Universe 2014.
She was also a customer service representative at Courts, Lucky Dollar and Digicel and a career guidance volunteer at the Guyana Youth Corps.
In addition, Mc Phoy has an Associate Degree in Tourism, passes at CSEC and CAPE and is hoping to complete her Corporate Law studies next year.
EXCITING JOB BUT HIGH RISK
She told the Pepperpot Magazine that the job is exciting in the sense that she meets a lot of people travelling from country to country, but the job is very high-risk.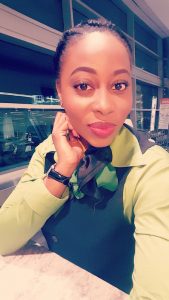 "It is not all about glitz and glamour and parading at airports, but the job entails long hours, hard work and at any given time things can happen that is why I am well trained and I know how to respond," she said.
She related that as a Flight Attendant one must bear in mind her duty is to respond to passengers and their safety is her business. As such, she has to be alert at all times because once the plane takes off anything can happen.
"It doesn't matter how many times we fly, once we take off we pray for the safety of the passengers and crew members and we also want a safe landing," Mc Phoy said.
This cheerful young woman added that in her line of work they get to travel a lot and in the process meet people, including some celebrities, and if they are lucky they get to take photos with them to brag about later to friends and family.
CHILDHOOD DREAM COME TRUE
Mc Phoy as a child went to the airport a lot to see her parents off because they travelled a lot back then, and she used to admire the flight attendants, the way they looked in their uniforms. From then on, she told herself that one day she would like to become one of them.
"I never thought I could become a flight attendant but I did it and I am very happy to do so, given the fact that I put my all into it and it just goes to show that anything is possible once you believe in yourself and work toward it," Mc Phoy said.
The Lindener pointed out that it was tough because aspiring flight attendants were only allowed to redo exams twice if they failed, but thankfully, she managed to pass all the exams.
For her, it was "go hard or go home" – her own little motto that kept her going and everything happened at the right time.
She noted that sometimes she is out of the country two to four weeks at a time and she is loving every bit of it.
Mc Phoy is among 34 flight attendants here in Guyana, but is the only Lindener among the lot.
All in all Mc Phoy is a happy-go-lucky kind of a person whose childhood dream came through and she is thankful it did and said it was all because she believes in the power of prayers.