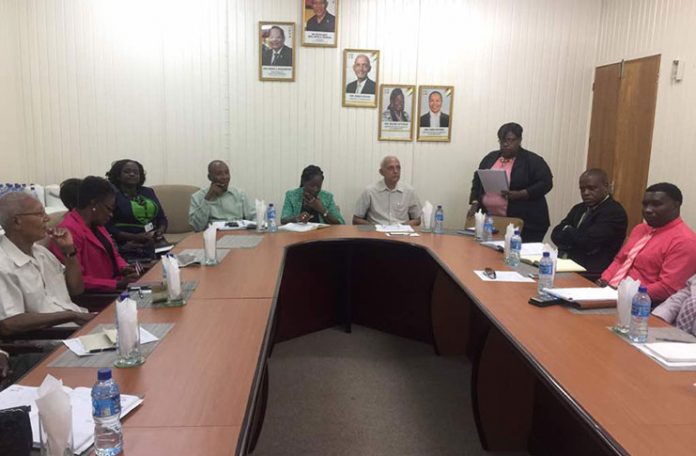 THE new board of directors for the Central Housing and Planning Authority (CH&PA) was on Thursday sworn in, with a charge from Minister of Communities, Ronald Bulkan to ensure good governance.
Present at the occasion were Ministers within the Ministry of Communities Valerie Patterson and Dawn Hastings-Williams, CH&PA Chief Executive Officer (CEO),Lelon Saul and representatives from civil society.
The board is made up of one representative each of the nine municipalities. The other members are from the Environmental Protection Agency, the Lands and Surveys Commission, the Central Board of Health, and those chosen by the Minister as stipulated by the Housing Act, Article 36:20.
The board is chaired by Reverend Ellsworth Williams and other members are Junior Garrett, Sheik Mahmood, Mohamed Dawood Khan, Cleveland December, Mark Ambrose, Carlton Beckles, Winifred Heywood, Rookmin Ramcharran, Sonia Gumbs-Luke, Dr. Mallika Mootoo, Glenyss James, Heather Martins, Thandi McAllister, Michael Huston, Naresh Mangar, Waneka Arrindell and Egbert Carter.
Bulkan called on the directors to put aside partisanship in the execution of their duties.
"I am cognisant that the task will not be easy, but I am sure that you will bring your skills and experience to the table. The board comes into being in and at a time of change. Change is not something that is easy. I am in no doubt that you will serve with distinction and excellence, and leave a lasting legacy of success in our quest to improve the conditions under which our people are living," he said.
The role of the board is to provide oversight of the agency's operations.
The life of the old CH&PA Board came to an end in December 2016.
The old board was chaired by former Mayor of Georgetown,Hamilton Green, who is well over age 80.