ELEVEN of the 12 athletes who participated at the Flow CARIFTA Games arrived home yesterday afternoon and were greeted in what has been dubbed a 'heroes' welcome', by an enthusiastic party that included Athletics Association of Guyana (AAG) president Aubrey Hutson, Director of Sport Christopher Jones, some parents, supporters and several other excited well-wishers.
Hooper was the only overseas-based athlete on the team and she returned to the U.S.
The athletes were toasted in the VIP Lounge at the Cheddi Jagan International Airport. It was a grand celebration for the team. Police escort was then provided for their journey to Georgetown and a motorcade around the city.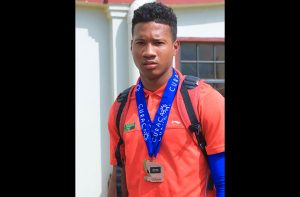 The successful Guyana team returned with eight medals from the esteemed meet, including a historic win of the Boys' Junior 100m gold medal.
Overall they collected four gold, one silver and two bronze medals. As a result Guyana finished fifth of 28 countries that participated in the event.
The Boys' Junior 100m gold went to Linden's Compton Caesar, who also won bronze in the 200m. Of the other medal winners Linden's Chantoba Bright finished with one gold and a bronze, Anfernee Headecker had one silver, Claudrice McKoy won one gold and a bronze, and Natricia Hooper finished with a gold as well..
"What you were able to achieve over the weekend is what we could call the resurrection of Guyana's place as it relates to athletics," Jones told the gathering just before he toasted to their success at the airport.
However, missing from the greeting delegation was Minister of Sport Nicolette Henry, who was also not present when the team came down to Georgetown.
In Georgetown, President Granger hosted the athletes at State House, giving them encouraging words of gratitude for what they have done for Guyana.
But it was not just all words. As a thank-you, the President gave each member of the team, officials included, a commemorative 2017 Independence gold coin, which has not yet been released.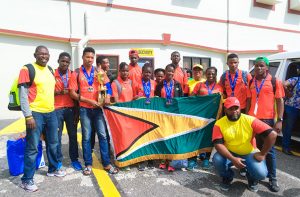 The athletes ended the evening as guests at the National Sports Award ceremony at the Savannah Suite of the Pegasus Hotel. The Linden athletes on the team then spent the evening as guests of the Pegasus Hotel.
There are expected to return to Linden today, again under Police escort, where other festivities, including a motorcade, await them.