The aggrieved mother of late political activist, Courtney Crum-Ewing yesterday launched a new wave of protest action as she vowed to keep the pressure up in her quest for justice for her son.Donna Harcourt,along with other female companions identifying themselves as 'women with children' braved the afternoon sun seeking an audience with former Attorney General Anil Nandlall,who they believe has some information about the Crum-Ewing's murder.
Harcourt told the Guyana Chronicle that they had become aware that the former Attorney General was scheduled to meet with the current AG over official business. "We thought then it would be a good opportunity to meet with Mr. Nandlall,because I believe he knows something about my son's death," the mother said.
"I would like to confront Mr. Nandlall," Harcourt insisted. The woman said that sometime back,Nandlall had contacted her via Facebook messaging and insinuated that he had nothing to do with Crum Ewing's death. According to her, Nandlall had messaged asking, "Donna you think I did that. And what is your government doing about it…"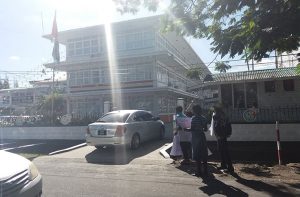 Hartcourt said that should she meet Nandlall,it would be the first time she would be doing so. However, despite placards and shouts for Nandlall to meet with the mother and supporters, the former AG's vehicle drove into the AG's compound when he arrived for the meeting with the AG. Clearly upset, the women began to yell at Nandlall,calling him a liar and a murderer. Outside of this, Harcourt expressed disappointment at the current state of Crum Ewing's murder case. Last year, Regan "Grey Boy" Rodriques who was charged for Crum Ewing's death, was freed of the murder charge after the court upheld that there was insufficient evidence to link him to the murder despite the murder weapon being found in his possession.
The mother said a number of inconsistencies existed with the case and while she did not want to divulge the contents of what will be done, she promised to take further action in her quest for justice. Numerous calls were made for those responsible to be brought to justice for Crum Ewing's death, especially since it was highly speculative that top officials within the former People's Progressive Party "PPP" government had played a part in Crum Ewing's execution.
It was just ahead of the 2015 election that Crum Ewing, a former army staffer,was encouraging persons within the Diamond community to vote on elections day. The man was however gunned down in a dark secluded part of the community after hit men chased and finally executed him. Crum Ewing was shot five times, including twice in the head at point blank range.