THE work of the Food and Agriculture Organisation (FAO) has never been more challenged in its 72-year history than at present, given the negative impacts of Climate Change.This is according to FAO Country Representative, Mr Rueben Robertson, who said Monday that not only is the fallout making it difficult to effectively reduce poverty and enhance the livelihoods of farmers, but it's also playing havoc with food and nutrition security.
Making the observation during the opening of a two-day Climate Change workshop at the Cara Lodge, Robertson said such training couldn't come at a better time, as it specifically addresses such important topics as Climate Information, Early Warning Forecasts and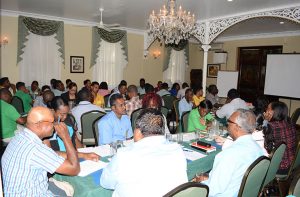 Community-based Early Warning Systems.
Robertson told attendees that the reason climate change is having such an adverse effect on the agricultural sector is because the farmers are not equipped with the required information to be able to make evidence-based decisions at the farm level.
"It is that kind of information that will help us to be able to keep the farming community out of poverty, ensure food and nutrition security, and at the same time ensure that there is continued economic growth and development," he said.
ENHANCED SUPPORT
Noting that the technical pace of support needs to be enhanced ten-fold to cope with, and reverse the challenges and negative impacts of climate change, Robertson said the FAO is appreciative of the fact that it is able to work with the United Nations Development Programme (UNDP), with financing from the Government of Japan, and in collaboration with the Ministry of Agriculture, on the mainstreaming of disaster risk-management in the agricultural sector.
Components of a disaster risk-management plan, which was done in 2013 for the agriculture sector, Robertson said, are being implemented within the Ministry of Agriculture to help the farming communities.
The workshop is being facilitated by the UNDP, with the help of its technical expert, Mr Juan Fernandez, under the theme, "Building Resilience and Sustainable Livelihood: Mainstreaming Disaster Risk Management/Disaster Risk reduction in Agriculture sector in Guyana".
Its objective is primarily to bring extension and field officers up to speed on the vagaries of climate change, particularly where the importance of early warning is concerned.
To the participants, Robertson said, "I want you to understand what we are trying to do and what are your roles and responsibilities in helping us and the government to achieve these objectives; our role is to help and support the government in achieving the sustainable development goals in 2030."