NOT much has been heard of young tennis player Gavin Lewis since he migrated to the United States of America (USA) to study on a tennis scholarship at the Coppin State University. During that time, however, the 20-year-old has been shining both academically and athletically.
This coming January will mark two years since Gavin left Guyana, and while there have been few reports on just how he's been doing since he left, it has been quite an interesting and accomplished two years for him.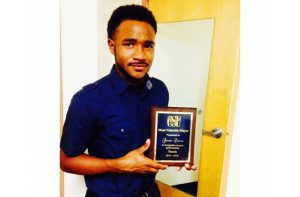 Gavin was awarded Most Valuable Player on the team, the Coppin's Eagles, and a spot on the college's Dean's List after finishing his first year with a 3.5 GPA.
He is considered one of Coppin's leading men's tennis student-athlete, crowning his 2016 season with a highly regarded doubles win against Howard University in the Mid-Eastern Athletic Conference (MEAC).
He was one of only three players from his school named as part of the (MEAC) Tennis All-Academic team, which recognises student-athletes with a 3.0 or better cumulative grade point average.
Gavin's performance in the USA marks a continuation of his top end accomplishments when he was performing in tournament's locally – the very reason he caught the eye of overseas-based Guyanese, Coppin State head coach Diwani Lewis.
He was Guyana's number one junior seed when he was given the scholarship in 2014. He had also performed remarkably in the senior tournaments.
So outstanding was his performance back then that Diwani had been eyeing Gavin for a scholarship even before he was old enough to access one. So once he was old enough it was only a matter of formality to get him into the school's sports programme.
At Coppin, Gavin is studying for a Bachelor's Degree in Criminal Justice and Journalism. Being a part of Coppin has afforded him several opportunities to improve his skills.
Coppin is continuously involved in matches throughout the season, which gives him a lot of time to play and challenge himself.
But it was not all fun for him when he first arrived. Gavin's dad had passed away just prior to his leaving for his scholarship, and this really shook him up. He really had to push through his emotional pains to put his best foot forward for his new school.
"My first year was pretty good. I didn't expect to do as well as I did, given the situation I was in when I left for college," Gavin said.