…Min Gaskin tells Republic Bank forum
GUYANA can, with the right investments, be transformed into a regional investment hub; thus Government has recognised the need for development of value-added sectors, to increase opportunities for young Guyanese.
This is according to Minister of Business, Dominic Gaskin, who added that Government is working to create a more competitive economy, with expanding opportunities.
He told a gathering of bankers and members of the local and regional business communities at Republic Bank's first trade mission — on Monday morning at the Marriott Hotel in Kingston, Georgetown — that Government supports an economic model that sees private sector investment as the key driver of sustainable growth. He added that there must be a long-term partnership between the public and private sectors, to create an economy which is relevant to the country and further afield.
Delegates from the bank's regional territory branches, including those in Guyana, Suriname, Barbados and Grenada, will gather over the next three days to discuss financial and business opportunities; and speaking to a packed room, Gaskin said there is need for a financial sector that is responsive to the needs of the economy.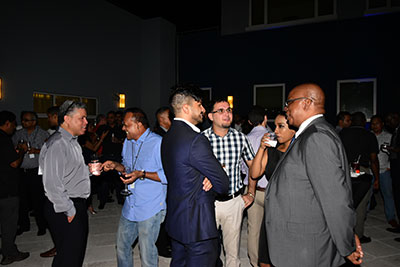 "Guyana is going places, and investors are coming to Guyana to explore opportunities", he said. He noted that the Ministry of Business has made it one of its top priorities to make Guyana an easy place to do business. This includes moves via an action plan which comprehensively allows agencies to collaborate.
Regarding the country's business mood, Gaskin said investment infrastructure needs to be aligned with economic opportunities. He singled out the Guyana/Brazil road, which he said is feasible because it would lower transportation costs for Brazilians to transact business, and in effect would cause a number of opportunities on this side to become attractive.
He said Government has chosen to prioritise "re-balancing "of the economy, to reflect on the needs of the people and the priorities of the country as a whole. "We must start making the necessary investment today, to wean us off of our dependence on primary commodities," Gaskin said.
He said the value-added sectors will be examined as priority to encourage investment in that regard. He identified the agricultural, tourism and forestry sectors and outputs of the mining sector as the "obvious areas where Guyana has products to add value."
Speaking on the forum, Republic Bank's Executive Director, Roopnarine Oumade Singh, said the bank is confident that a lot of business would be generated from the three-day forum.
He said the vision for the trade mission and subsequent missions is to bring together corporate and commercial customers across all jurisdictions, to establish mutually beneficial relationships, foster multilateral trade, open new markets, and create additional revenue- generation avenues beyond the exiting boundaries.
He said the bank's mission is to build successful communities, and while the financial institution has a strong balance sheet and a healthy loan portfolio, among others points of standing, its partnerships is what makes it proud of its 149-year-old history.
Last year, the bank was rebranded Republic Financial Holdings Limited. It has an asset base of over US$10B and staff compliment of over 5000 persons. In each jurisdiction, the bank operates on different IT platforms, and this would be upgraded to a single platform over time.
"Republic Bank stands ready to provide credit and trade financing, investment banking, and structuring for bond issues and conditions papers", Singh said. He said that, as a trade development bank, Republic would be able to develop trade parties using local currencies.
Republic Bank has begun facilitating payment for the importation of goods from Guyana in Trinidad and Tobago dollars and in Guyanese dollars, as opposed to US dollars. The move, Singh noted, would be beneficial to all parties.