MINISTER responsible for Sport, Nicolette Henry, took yet another opportunity to say that the government is fully committed to making sports in Guyana a priority, when she delivered the feature address and officially declared open the 56th National Cycling, Swimming and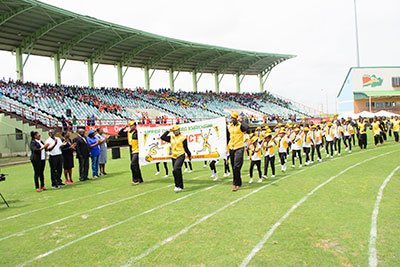 Track and Field Championships yesterday at the Guyana National Stadium, Providence.
"The government recognises the important role that sports plays, not only for social cohesion and economic and national development but in education as well." Henry emphasised
"As a result, a lot of attention and finances have been put towards the development and enhancement of our sporting facilities, provision of sporting gear and equipment, the training of our athletes and the inclusion of sports in the school's curriculum."Henry also, again, pointed to the great tool that sports can be used as in fostering unity among persons of different backgrounds.
"It can be utilised to bridge cultural gaps, resolve conflicts and educate people in ways, perhaps, that no other non-physical activity can. Sports, arguably, is the only forum that can bring people together for a common goal,." the minister said.
Also touching on the role of sports as a unifying tool was Guyana Teachers Union (GTU president Mark Lyte.
Lyte also spoke of the Championships' direct role as a starting point for many athletes who went on to participate at bigger sporting events.
"Our commitment to this Championship has enabled us as Guyanese to produce many stalwarts who have gone on to represent Guyana at the CARIFTA Games, Caribbean Union of Teachers' Championship, and even to the coveted Olympics," Lyte reminded.
He continued: "We have not produced a world leader in athletics as yet … but in order for this to happen we need to place emphasis on sports in school. The time has come for sports to be firmly cemented in our national curriculum, and the resources to support its growth and development must be readily available."
Lyte also commended the hard work of all those who came together to ensure the success of this year's Championships.
Speeches by Lyte and Henry followed the march past of the 15 Districts, which saw a flamboyant display of the athletes in the colours of their respective district. Over the next few days the districts will battle for supremacy in the track and field competitions daily at the national stadium.
The swimming aspect of the Championships has already concluded with North Georgetown (District 11) winning that on Monday. Most of the cycling was also completed on Monday, with only the 40km road race remaining. Corentyne (District 6) are currently in the lead for that competition.
District 10 (Upper Demerara/Kwakwani) are the overall defending champions of the annual event.