CORENTYNE District 6's Samuel Jordan leaped to a new record in the Boys' Under- 18 long jump, while other record-breaking performances like those by CARIFTA Games bronze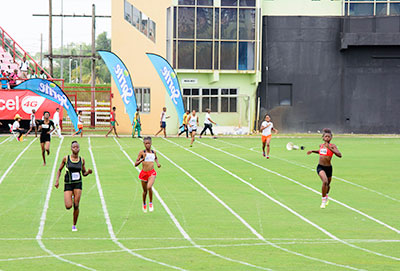 medallist, Chantoba Bright, and Jemaine Simmons, helped defending champions Upper Demerara/Kwakiwani (District 10), climb to a lead by the end of the first 20 finals in the athletics competition of the National Schools' Cycling, Swimming and Track and Field Championships at the Guyana National Stadium, Providence.
The Lindeners amassed 81 points to start off a good defence of their title. However, things got off to a bleak start for District 10's longtime rivals, North Georgetown (District 11), which was eleventh among the 15 districts in the point standings after having just 38.5 points by yesterday's conclusion.
In a day that saw only field event finals being completed, West Coast Berbice (District 5) finished behind Linden with 76 points, while next in line were Essequibo Coast/Pomeroon (District 2) with 75.5 points.
North West (District 1) also had a good showing, and for their efforts finished with 72 points, while rounding out the top five were New Amsterdam (District 15) with 68 points.
Closing off the top 10 are West Demerara (District 3) (67 points), East Coast Demerara (District 4) (60 points), Corentyne (District 6) (54.5 points); East Bank Demerara (District 14) (52 points) and Bartica (District 7) (39 points).
Out on the field the athletes strived to do their best, aspiring to claim one of those coveted medals. In the process, Bright and Jordan ensured that both the Boys' and Girls' Under- 18 long jump records were amended, while Bright claimed her first medal after clearing 5.40m, erasing Keane Griffith's two-year-old 5.18m record.
District 4's Toyan Raymond was just behind with a best jump of 5.20m. District 11 took a worthy podium finish as Virlyn Gibson leaped to 4.35m in one of her jumps.
Jordan set the new record in the event at 7.02m. The old record of 6.68m was set by Jomal Butts back in 2014.
Also in the Under-18 category, Simmons ruled in the Boys' javelin for a new record of 48.50m. District 13's Godfrey Phillips was second after his throw covered 42.73m. In other wins for District 10 Trystal McAllister won the Girls' Under -8 javelin with a throw of 22.74m.
West Demerara (District 3) managed to take the Girls' Under-20 javelin through Shontel Browne's 19.18m throw, and District 11's Ruth Sanmoogan championed the Girls' Under-20 long jump with a 4.90m leap.
The day also saw the completion of the 400m heats, where several track regulars like District 11's Kenisha Phillips and District 10's Compton Caesar made it into the finals set for Friday.