IN a bid to broaden the scope of interest in rice and promote the resourcefulness of the grain, the Guyana Rice Development Board (GRDB) on Thursday evening held a cocktail reception and exhibition called "An Evening of Rice" at the Umana Yana. And invitees to the event were not disappointed, as they learnt a whole lot more about the Guyanese staple than they bargained for.
Post-harvest Researcher, Mr Dhirendranath Singh, said: "The Evening of Rice" was conceptualised to showcase the versatility of rice.
"We want to show people that rice is more than the staple; more than what you eat your curry with. Rice can do so much more."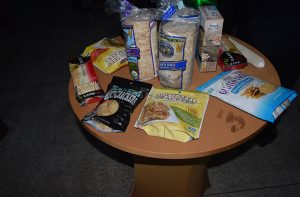 Agriculture Minister Mr Noel Holder hailed the event as a good initiative and hopes that it will see an increase in rice dishes being prepared during the upcoming Christmas season.
Rice may be one of Guyana's main exports, but the industry has seen its fair share of struggles over the years.
Singh explained that while Guyana is used to exporting rice as a raw material, there is a broader possibility for its use, particularly in the area of value-added products.
"It's about providing an opportunity, because, in terms of value-added, the technology is out there," he said, adding: "It's about getting the investment now to push the value-added sector forward, and this event is kind of a promotion and networking event that we hope, coming out of, persons will be stimulated and interest will be generated for us to move forward."
Products on display at the evening's gala ranged from cereal and biscuits to wine and mousse, and included both imported and local goods.
In terms of local products, there were health bars, the well-loved Banks Beer and Banks' "Tastee Snack", while the locally made Pandama Rice Wine was a particular hit with patrons, as many could be seen sashaying around socialising, wine in hand.
The GRDB also collaborated with the Carnegie School of Home Economics to have a wide menu of foods made from rice.
"What we did is engage the Carnegie School of Home Economics to do different types of rice dishes. You will see that we have rice as appetizers, rice as main course, rice as side dishes, rice as a dessert. And those are just a few of the different ways in which people can use rice in their daily life," Singh said.
The event saw several special invitees, including Prime Minister Moses Nagamootoo, acting in the capacity of President; Minister of Agriculture, Noel Holder; Chairman of the Georgetown Chamber of Commerce and Industry, Vishnu Doerga; members of the Private Sector Commission (PSC) and diplomatic corps.
Many patrons were very appreciative of the initiative and shared that their interest was indeed peaked by the wide range of products.