by Shivanie Sugrim
Street food is very popular in Guyana and the rest of the world and can add a boost to tourism since tourists always desire to taste the cuisine of a country. Street food in Guyana offers a wide variety of choices due to the rich and diverse culture which is influenced by the six ethnic groups and is sold at a very affordable cost. The cheap eats are enjoyed by the locals and foreigners of all ages. Some of the dishes prepared by street food vendors include pepperpot, roti and curry, chowmein, fried rice, cook-up, Meta gee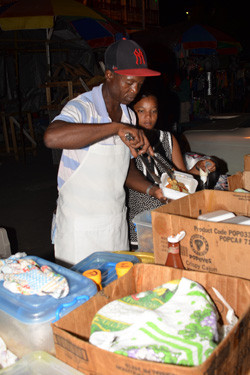 and vegetables such as pumpkin, bora, calaloo and even fresh local juices such as mauby, sorrel, cherry and passion fruit juices accompany this cheap and delicious meal.
These dishes are prepared by Guyanese who all have a flavourful story to tell:
Keith Hutchins, popularly known as "Ras", has been in the street food business for nearly 40 years and can be found alongside Rubis gas station on
Vlissingen road, Georgetown. The 58 year-old Ital specialist started serving the public in 1982, just after one of Guyana's famous restaurant, Brown Betty, burned to ashes in the 1970's. From working with Brown Betty, Keith mastered the art of cooking and decided to start selling food on the streets.
"I started with a corn curl stand and then my customers told me this wasn't working out so they encouraged me to start selling food," said the smiling Rastafarian. Keith is famous for his ital dishes that coincide well with the Guyanese cuisine.
Keith begins preparing for the streets at 5:00am every day and leaves at 9pm. His daily menu entails delicacies such as pizza, potato balls, puri and a host of other vegetarian delicacies for breakfast, lunch and dinner.
Attracting hundreds of Guyanese at the Stabroek Market with her flavourful puddings is Claville Thomas who started the street food business at a tender age of 26 with just $1,000.
"One morning I got up and I just started making pudding with $1,000 and I put up a stand in front my home in Friendship, and persons liked it so I continued with it ever since," said Thomas. Her day begins at 4am where she prepares her puddings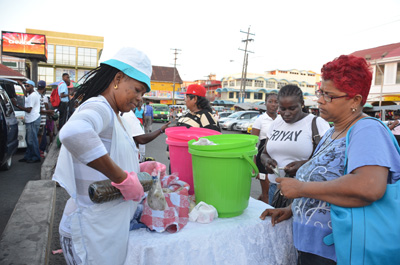 to venture out in town to sell.
The 42 year-old has been selling at the Stabroek Market for nearly 10 years and has since, attracted every passerby with her freshly scented puddings. Customers describe her as the "best pudding lady" in the vicinity of the market. This full-time occupation comes as a hobby for Thomas who believes in serving the public.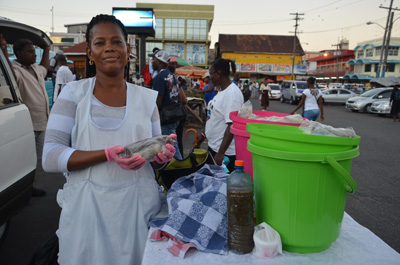 Black and white puddings are both famous delicacies in Guyana which has been around since the days of Indentureship.
Though relatively new in the business, Ernest Baird, 50 years of age, like Thomas, has been serving hundreds of Guyanese at the Stabroek Market for three years. Baird started the street food business just after Carnegie school and thereafter branched off into the interior and several spots in Georgetown until he decided to maintain a spot in the market, where the crowd is always heavy.
"I have been helping Guyanese out a lot because late in the nights restaurants close up and people don't have any place to go for food so this is where I come in. I am here and I like being here for them so I see myself doing this for the next five years," pointed out the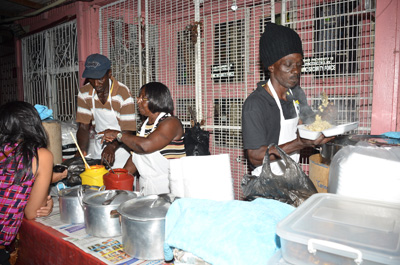 determined food vendor.
Baird is popular in the market for his wide range of delicacies that caters for all ethnicities; particularly his cook up rice that comes is always unique in taste.
Keeping the family tradition alive is, "Nigel" and "Rawlton" who comes out every evening to serve the Regent Street passerbys, fresh cook-up rice among other delicacies. Like Baird, both siblings are famous for their unique taste in food. The brothers, who inherited the business from their mother, starts preparing for work at 9am every day.
"My daughter and my two sons run the business now. I am happy because I can rest assured that the business will pass onto my grandchildren and the coming generations. I have been serving the people for over 20 something years and it is my pleasure even during the days when GAWU was still standing," said the mother, who is popularly known as "Aunty Donna".
A true Guyanese would entertain creole food on any given weekday and food vendors like, Keith, Claville, Baird and brothers, Nigel and Rawlton are always ready to serve the public.