MINISTER of Social Cohesion, Amna Ally, on Wednesday last took the message of social cohesion to the mining town of Linden, Region 10 (Upper Demerara- Upper Berbice), telling those present that the time has come for all Guyanese to work to achieve national unity and togetherness. This, she said, while elusive for the past 23 years, is not an impossible task.Addressing a small gathering at Lichas Hall in Linden, Minister Ally noted that the purpose of the activity was to involve citizens at the community level in a national conversation on the promotion of togetherness and national unity. This, she explained, was one of the primary mandates of her ministerial portfolio.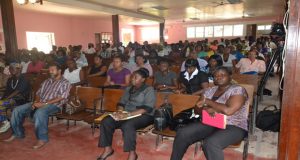 Minister Ally said that "social cohesion" is desperately needed for the country to develop and reach its potential.
She further noted that when citizens – individuals and groups alike- fail to find common ground on issues that affect their development, the country is ultimately affected. In this regard, she said her ministry wants to build trust among communities and for that to happen there must be behavioural changes and the creation of an atmosphere for peace and acceptance.
"Your relationships in the community are important. We want to promote useful and productive relationships within and among groups at the community level. How you relate to neighbouring communities, regardless of your ethnic background, is also important," she said.
This was later supported by an elder of the region, who said it is the people who must change themselves if social cohesion efforts are to bear fruit.
As she outlined her plan as Minister of Social Cohesion for the achievement of cohesiveness in the country, she reiterated that the work must not be left solely on Government, but citizens too have a responsibility to support the fulfilment of the mandate set out.
"You have the clear responsibility to foster unity among diverse populations and create a vision for a common future that pivots on the acceptance of differences with a view to harvesting the strengths that are inherent in diverse societies…You can make a positive change in our country…we recognise that behavioural change is a pillar to reconciliation in this country and we must all contribute to achieving the good life that we all want right here in Guyana," she said.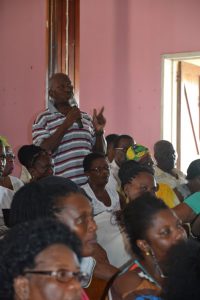 Mr James Douglas told the audience at Lichas Hall that if the mandate were to be fulfilled, then "We must change our attitudes to move forward. We must have attitudinal metamorphosis. I understand that to mean then the persons in this region must change our attitudes. This is a new day indeed for us…and I want to say that we have the fortitude to succeed and to allow programmes and policies put forward to take us to the next level as a people."
Residents welcomed the exercise in the region, while they pointed out ways in which citizens can become involved for the fulfilment of the social cohesion mandate.
In the meantime, Renis Morian, Region 10 Chairman, informed the gathering that the town is actively pursuing the realisation of a bitumen plant which will significantly boost the region's economy by reducing unemployment, while the television station will be up and running within the next two weeks.
The event was attended by Mr. Trevor Benn, Programme Analyst with responsibility for governance and poverty at the United Nations Development Programme (UNDP); Members of Parliament Jermaine Figueira and Valerie Patterson; and Project Manager Sharon Patterson.