POLICE Commissioner Seelall Persaud yesterday launched a 'Suicide Helpline' as another initiative under the Force's Social Crime Prevention programme.Persons desirous of accessing the services of the Guyana Inter-agency Suicide Prevention Hotline can contact: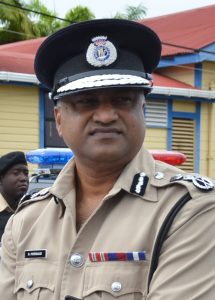 Telephone numbers (+592) 223-0001, 223-0009, 600-7896, 623-4444,
Email: guyagency@yahoo.com
BBM PINS: 2BE55649, 2BE56020
Twitter: guyanaagency, WhatsApp: +592-600-7896, 592- 623-4444
FaceBook: Guyana Interagency Suicide Prevention Help Line
The centre is equipped with suitably qualified and trained persons who will be answering phones and also receiving text messages and emails and other forms of communication through social platforms operated and manned by the inter-agency centre.
In explaining how it works, the commissioner stated that when a call comes to the centre, once it is able to determine where the call is coming from, efforts will be made immediately via the nearest police station to have one of the counsellors from the Ministry of Social Protection or faith-based leaders who are counsellors to go to the subject and take over the process.
At some stage a determination will be made as to whether the counsellors will work or whether there is need for more professional engagement; and in those cases, the Ministry of Public Health will be contacted, and mental health specialists can be brought in to speak with the subject.
In the presence of senior and junior police officers and Minister of Public Security, Mr. Khemraj Ramjattan, and Minister of Social Protection, Ms. Volda Lawrence, the police launched the Guyana Inter-agency Suicide Prevention Helpline under the theme: 'You call, we listen and help.'
Persons who have thoughts of committing suicide can now seek counselling and have persons talk them out of the intention.
Also present at the event were representatives of two agencies that deal with drug rehabilitation since, according to the police commissioner, many persons who commit suicide are hooked on drugs or alcohol and so inputs from the agencies would be necessary.
The initiative will also facilitate the collection of data from persons who make contact with the agency and those who benefit from the counselling services, Seelall noted. He stressed that it was necessary to also allow university students to be involved.
Additionally, there will be a steering committee to review the functioning of the department and evaluate the services being provided. This review will be done weekly in the interim, the Commissioner pointed out.
There is also a communication strategy that the police are looking at which speaks to public service announcements and billboards and also several other public-awareness initiatives. There is also the need to engage media houses through lectures on the initiative and this will be facilitated by the experts in the field.
Chaplaincy International came to Guyana and began training in the area of suicide prevention and ranks of the Police Force were the beneficiaries of those sessions. (Leroy Smith)