VENEZUELAN President Nicolas Maduro's rival from the country's 2013 Presidential elections, Henrique Capriles has come out to slam the country's leader for using the Essequibo issue to draw attention from the other political and economic problems facing the oil-rich country. Following Maduro's address to Venezuela's National Assembly last Monday, Capriles, also Governor of Venezuela's Miranda State, was reported by Venezuelan online agency, 2001, saying "yesterday (July 6), we saw in the AN [National Assembly in English] that they now want to retrieve the Essequibo [but] who will believe them?"
"Maduro was Foreign Minister for six years and now you realise there is a territory to claim? Please! What they want is to put an issue on the table to divert the attention of the Venezuelan people from the issues that affect them," Capriles continued.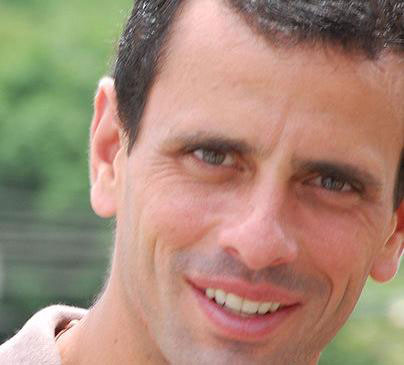 The Venezuelan Opposition Leader went on to challenge Maduro's attempt to marginalise Venezuela's youth in the country's upcoming December 6, 2015 elections, where Capriles could make a comeback since the leader of Venezuela's 29-party Opposition coalition, Leopoldo Lopez remains in political prison under Maduro's orders.
Lopez's imprisonment has drawn widespread condemnation from the international community, but Maduro remains adamant in his accusation against Lopez, a Harvard University graduate, being involved in the 2014 protests across Venezuela, which ended in the death of at least 11 Venezuelans including university students and police officers.
On July 8, registration for Venezuela's upcoming elections closed with no intention from the Government of reopening the process. "They are not interested in young people expressing themselves because of fear," the news agency reported Capriles as saying.
"The Government does not want to register [the youth], because they know that our young people are more than voters, they are the future of our homeland." "If young people are organised," Capriles continued, "I assure you that the country will have a different course."
President Nicolas Maduro is the successor of Venezuela's former President Hugo Chavez, who started Venezuela's socialist revolution in 1998. Chavez died in 2013 after an arduous battle with Cancer. Maduro, a former bus driver, served as Chavez's Foreign Affairs Minister before his assent to the Presidency.
VENEZUELA'S ECONOMY
Since Maduro's assent to power, the Venezuela economy had plummeted significantly. Shortages in basic food commodities, rapid inflation, and the decline in the oil price on the global market saw Venezuela is less than favourable economic and social circumstances.
Challenging Maduro's socialist regime, students took to the streets in 2014 and 2015 in violent protests against Maduro's grip on the country's economy.
Following Maduro's first decree, on May 26, claiming the Atlantic waters of both Essequibo, and Demerara, seasoned Caribbean Diplomat Sir Ronald Sanders noted in an article post on Barbados' Antillean Media Group (AMG) that Maduro's claim can neither stand up to international law, nor can he enforce such a claim without sanctions from the international community.
"The answer lies, to some extent, in the hostile domestic politics of Venezuela which have intensified in the wake of deteriorating economic conditions, creating widespread hardship," Sir Sanders reasoned in his post.
On his most recent trip to Trinidad and Tobago, President Nicolas Maduro managed to negotiate for the Caribbean nation to provide an economically-strapped Venezuela with toilet paper, which has become scarce in the country.
Venezuelan ID Cards for Essequibans
More recent revelations coming out of the Guyana/Venezuela border controversy were reported by Venezuelan news agency, El Universal that Head of the Maduro-created 'Office for the Rescue of the Essequibo', Colonel Pompeyo Torrealba hinted to the Venezuelan Government issuing identification cards to Guyanese living in Essequibo, with an intense education campaign on Venezuela's claim to the Region.
With even more developments in Venezuela of the country's President recalling his Ambassador to Guyana, and issuing statements that the United States is looking to infiltrate Venezuela through Guyana, former Ambassador of Argentina to the United Nations, Emilio Cardenas believes this to be an effort by Maduro to postpone the country's elections in fear of his party losing.
"By appealing to nationalism and encouraging conflict, Maduro could suspend elections and invoke this for safety reasons," Cardenas noted in a letter to Argentinian media agency, Rio Negro.
"There are good chances that the Venezuelan mid-term election will take place, without discounting that Nicolas Maduro can fraudulently reduce the impact of the election, which if conducted transparently, would be a sign of unhappy Venezuelans strongly rejecting mismanagement that has destroyed Venezuela."
"So you resort to poor swipes at inflating the border crisis on the Essequibo coast, where a consortium of foreign companies authorised by Guyana has discovered oil," he continued.
Venezuela continues its claims of Guyana's Essequibo region and the Atlantic coast off that region, as well as Demerara's Atlantic coast through President Maduro's issuance of an amended decree, which maintains the Venezuelan Armed Forces to use 'threat of force' in Guyana waters that have been deemed Integral Maritime Zones.\
By Derwayne Wills