I met Bill Rogers and Young Bill Rogers some years ago. Every morning Bill senior would be holding Young Bill's hand as he took him to school. As they passed my home I would come out and join them taking my two guys to the same school. I liked Bill. He was always pleasant and willing to converse with a youngster like myself but there were things I did not know about this great man. A Guyanese of immense talent, a man of integrity who entertained, educated and was a serious social historian who left quite unselfishly a rich legacy for all Guyana's youth.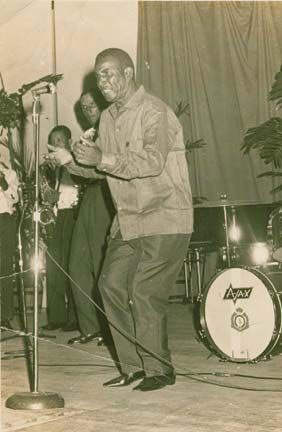 To some persons he was merely an entertainer but there is always more below the surface of an unassuming and humble personality.
Augustus Hinds, aka 'Bill Rogers' was born in British Guiana in the year 1906 and by the year 1911 he entered the family business. His two sisters Beatrice and Bernice were known to hold shows at that time and they took him to perform at that early age of five. That was the first time that Bill Rogers had ever made a stage appearance. By age thirteen he was writing his own songs. His first song was 'Mauby and Pancakes'. It is documented that there was a person, a woman who sold these delectable items on Camp Street opposite the Camp Street jail.
Immediately one can begin to get an idea of the mindset of this young trooper. What is important to know is the social/political situation that prevailed in Georgetown at that time since it did influence the young Bill Rogers' way of thinking.
It was the time when Nathaniel Jordon questioned the religious dogma and teachings of the resident Christian religions. It was also the time when Nathaniel Critchlow not only questioned the workings and exploitation of workers but began to mobilise support particularly for the waterfront workers. It was a time when the influence of F'eddy Bandola (a stick-fighter from Buxton whose surname was Jacobs),the celebrated King of Santapee ruled the roost as a popular figure in town. It was a time when the colonial system was desperately attempting to control the labour and especially the worldview of the African population. Bill Rogers would have been aware of this even at his young age.
'Mauby and Pancakes' was thus a testimony to the thinking of those times as well as a record of our social history. This though was just the beginning for 'Bill Rogers', aka Augustus Hinds. Not only did Bill Rogers perform for his sisters show but he also had learnt the family business which was the making of sweets and himself had picked up the trade, making and selling sweets on the street corners. Hence, added to the many hats he wore, surely entrepreneurship definitely must be included.
What must be remembered also is Bill organised his own shows which of course gives legitimacy to this claim. He had organised a group of performers known as the 'Merry Makers' which was more or less a vaudeville group that he took around on tour with him.
During the 1920's Bill Rogers went on tour to Suriname and he also took the opportunity to perform at the Gaiety cinema in New Amsterdam. It was during these years of second decade of the 1900s that Bill Rogers wrote such songs as 'B.G. Bahjee' , 'The Weed Song' and 'Daddy Gone to Cove & John' as well as the popular 'Fifteen Cents Sweetheart'.
Bill Rogers was a very prolific song writer. His focus remained on the working class population which was his target audience. He wrote for them and wrote of them. His first broadcast on the local airwaves was in 1929. It was the first time that the 'weed song' was broadcasted on local airwaves. Around this time too, Bill added magic to his repertoire. In 1934 however, Bill created another first. He sailed by ship to America and recorded for the RCA Blue Bird record label (the largest recording company in the western hemisphere at the time) thirty-four of his songs. This was done in Camden New Jersey but by 1937 Bill Rogers was in Trinidad where he impressively won the calypso crown for that year. He was the first Guyanese to do so.
Bill was also a promoter of his own shows such as the 'Baby Show' and the Scholarship Fairs. He was therefore one of the first to play an entrepreneurial role as well as being a performer. I was told by his son now performing under the title of Young Bill Rogers that many of his shows also featured artists of the time like Sam Chase and Jack Mellow ,Madam O'Lindy actors, comedians, acrobats, etc.
According to young Bill Rogers, his father's purpose in keeping the 'Scholarship Fairs' was to give back something to the society that brought him up. Bill Rogers, he said, was concerned about his people and he wanted very much to help the less fortunate.
The Scholarship fairs were a means of giving a higher standard of education to those less fortunate, than they would have attained in British Guiana, by sending them abroad to study in various fields such as medicine and other academic disciplines.
Young Bill named a few of the recipients of these scholarships, Donald Bobb-semple was one such person as well as Jenny Paul and Imran Ramnarine. It was unfortunate that none returned even to thank his father for his compassionate intervention on their behalf.
In 1952, Bill Rogers was recording again, this time it was for Parlaphone a record company in England. In 1972, he was recording again but this time it was for Carifesta and that recording was done at G.B.C.
Bill Rogers died in 1984 but his memory lives on in his music. He is responsible for the creation of a totally Guyanese genre of music, 'SHANTO' . He placed Guyana on the musical map with this creation. His songs were a musical pictorial of the society he grew up in. It gave one a sense of the Guyanese environment of the time.
One reason for the loss of popularity of SHANTO music might well have been the issue of copyright. Bill Rogers was known to have sued such persons as Harry Belafonte and Lord Flea. Bill Rogers died in 1984 it is said but his legacy lives on.
Young Bill, his son, now takes center stage at local competitions as well as on trips abroad. He recently returned from Miami. Asked about his own advent into music he stated that he used to participate with his Dad in school shows where his father would do magic and perform.
His first solo act was, however, at the Young Guyana show when he was just age ten. Over the years he has made an impact himself twice winning the local Calypso Monarch competition. He is also a very versatile performer and is equally at home in the genre of Chutney. He has written a book on his father, 'The Life and Works of Bill Rogers' and on July 24th will be on stage again in competition with others for the crown in the 'Champion of Champions' competition for only those who have previously won the crown. The first prize, I'm told, is a car. We anxiously await this show.
******
(Bill Rogers' songs are great fun to sing especially this one)
THE WEED SONG
One day ah met an old woman selling
An ah wanted something to eat
I say I was going to put a Bit in she way
But I tek back when I meet
I thought she had bananas, oranges, or pears
But was nothing that I need
For when I ask the old woman
What she was selling
She said she was selling weed.
She had she coat tie up over she waist
And was stepping along with grace
She had on a pair of old clogs on her feet
And was wiggling down the street
Just then she start to name
The different kinds of weeds
And I really was more than glad
But I can't remember all that she call
But these were a few she had
Man Piaba, Woman Piaba
Tantan Fall- Back and Lemon Grass
Minnie Root, Gully Root
Granny- Back Bone
Bitter Tally. Lime leaf, and Toro
Collie Bitters, Carilla Bush
Flat 'o the Earth, and Iron Weed
Sweet Broom, Fowl Tongue
Wild Daisy, Sweet Sage
And even Toyo
She had Cat mint, Chinee Mint
Soldier rod, Pasture lana
And Cowfoot bush
Milk weed, brick weed, Bird vine
Ants bush
Bishop Cap and Rock balsam
Surinam Bitters, Wild green tea
Sweet finger and worm bush
Zeb Grass, Para grass
Carrion crow bush
Sweet Bitters and Tisane
She had Cassava Mumma, Coocoo Piaba
Jacob's Ladder, and Piti Guano
Finger Bush, Job's Tear, Piti Payi
Jumbie Basel and White Cleary,
Bile Bush, Wild cane, Duck Weed, Aniseed
Wara Bitters, and Wild Grey Root,
She even had down to a certain bush
Wha Bajans does call "Puss in Boots"
Oh when I hear how much bush she had
I left dumb till I couldn't even talk
She started to call from Camp Street Corner,
An never stop till she reach Orange Walk
The Woman had me so surprise
That I didn't know what to do
That a girl came and gi me a cuff in mi eye
And I did't even know was who
Sweet Broom, Sweet Sage
And Lemon Grass
I hear dem good fo makin' tea
An wen I hear Zeb Grass and Wild Daisy
Dem good to cool the body
The woman tongue was even listed
And she was calling out all the time
She even had a lil Kamwa eye
And the other that left was blind
She had Tanka Bitters
Pomgranum bark, Conga cane
Bay leaf, Young Bizzi- Bizzi
Young grape vine, Back pain
Stinging nettle, Sofamo bush
And Broad leaf time
Myamar Seed and evergreen leaf
Bitter fence bitters jus like gall
Saskadoole quashi bitters
And Ana Ful or
Snake bitters but dat ain't all
She had Bitter Guma, Putagee Bumbo
Conga Lana, and Twelve O'clock Broom
Sasparilla, Wild Sumatu
Soursop Leaf and Hafabit Weed
Yoruba Leaf, Sweet Pinpota Bush
White Fleary and Christmas Bush
Scotch and Sand Bitters
And even Monkey Ladder
And all the rest you may need
She had Cuza Moma basel
Marie Sukuya cure and detura
Tudor bush, black sage
And Mahongany Mee
Fenelwood and Office bush
Breadnut Leaf, Jumbie bubbie
And Stinkin Toe
Old Maid bush, Cow Jumper
And Wild Mango
She had Fat Bush, Elder Bush,
Black Pepper Bush
French Toya, Cure for all
And Capadulla,
Tamarind Leaf, Money Bush,
Soldier Pusley
Pumpkin Blossom
And even Devil Dua
Neem and Congo Pump,
Pingalor, Physic Nut
And Lily Root
In Fact the only bush
That she didn't got
Was bush in the everyday suite!