A  SEVEN-year-old West Coast Berbice child will soon be at death's door if her parents do not get enough money to send her overseas for urgently needed brain surgery. Colleacia Harcourt of Lich-field Village fell ill in late March and was subsequently diagnosed with brain cancer.An organisation named JIPA network, based in Miami, Florida, USA  has written the parents to tell them that she can be saved if they can find USD$35,000 or GD$7M for surgery in Colombia. However, JIPA also warned that time is of essence. The deadline for surgery is May 23rd, 2015.
The organisation said: "The patient has a very urgent need for a neuro-surgical intervention due to an intra-ventricular mass that she developed about two months ago. Without medical intervention the patient is at risk to develop a life threatening complication. This could result in a catastrophic consequence for this young patient. She needs pre-ops, neurological and endocrine work and immediate craniotomy and ventriculostomy."
The expertise for medical emergency is not available in Guyana.
This family needs the financial support to ensure rapid and immediate medical attention. Whatever assistance is provided will be greatly appreciated.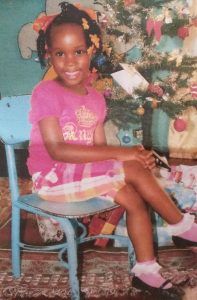 The child's father, Travis Harcourt is a barber and her mother Shonetta is a housewife.
Shonetta said that prior to her sudden illness in late March this year, Colleacia had been a lively and precocious child who often amused them with her frequent assertions that she wanted to become a lawyer when she got older.
She took ill in school with a severe headache in late March. The painkilling tables worked at first but after a while they failed to give her relief.
Her mother recounted: "We tried all the hospitals and local doctors, including eye doctors, but no relief. Then one of them recommended that we take her for a CAT scan."
The CAT scan and a subsequent Magnetic Resonance Imaging (MRI) of the brain detected the malignant tumor.
Since then, despite the painkillers and other medications, the child's medical condition has deteriorated.
The severe headaches were followed by episodes of vomiting, numbering about five to six occasions per day.
She started to develop an unsteady gait and eventually suffered a stroke of her upper and lower extremities. She soon stopped moving around and is now at home, bed-ridden.
"When she feels the pain now she can no longer scream. We know she is in severe pain when her entire body starts trembling and she raises her left hand and clutches her head and her face twisted… the distress on her face. It's hard," the mother sobbed.
Recovering somewhat, Mrs. Harcourt said that the family has been staging fund-raising activities such as concerts and fish fries and even soliciting door to door donations, to try to accumulate the amount needed for surgery.
The family established a bank account for donations and some people have given money but quite a few persons called and said they went to the bank and then turned away because: "the lines were too long." They have raised $2M to date.
FORMER GOV'T HAD PROMISED$2M
Shonetta blamed the former Government for apparently being more interested in the elections than trying to help.
"They promised us $2M since April. We kept checking. The Ministry of Health keet pushing us around with one instruction after the other. We haven't received a cent to date."
She said that the family agonised over the seemingly long process leading to the swearing in of President David Granger.
Now that this is done, the girl's father will be going all out this week to try to get assistance from the recently sworn in President before it is too late for Colleacia.
In the meantime, persons who wish to help the desperately struggling parents and their seven-year-old girl can contact the family at Lot 44 Lichfield Village, West Coast Berbice on telephone Nos.: 699-1005; 622-4080 and 613-4422.
By Clifford Stanley
They can also make donations at Republic Bank Account # 730-269-8.