THE annual silent auction held by the Guyana Relief Council (GRC) got underway Wednesday at the Victoria Lounge, Pegasus Hotel, where a variety of appealing items were up for auction.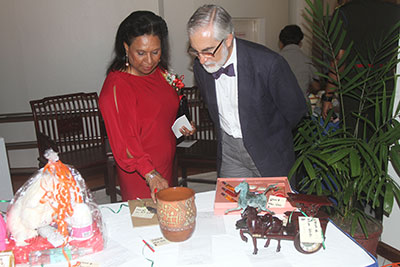 The viewing and bidding continues today from 10:00hrs to 17:00hrs and will close tomorrow at 12:00hrs.
Head of the Welfare Committee of the GRC, Ms. Rohini Bonar in her remarks to the gathering said the items for the fundraiser were donated by generous persons in Guyana and corporate citizens in the Diaspora.
In addition to silent bidding at the auction, there was a 'Cash and Carry' at the event which will greatly help in enhancing the Welfare Programme.
Chairman of the GRC, Mrs. Yvonne Hinds officially commenced the auction by cutting the ceremonial ribbon. She said that for the year so far, the Council had helped in 42 cases of fire that affected 179 persons and two cases of high winds that affected 14 persons. The GRC also did a hinterland outreach where they helped 235 students of Annai and 13 teachers by donating much needed knapsacks and stationery supplies.
The items on display for auction included electrical items, furniture, glassware, vases, unique pieces, books, jewellery and alcoholic beverages. The Cash and Carry section had designer shoes and handbags along with household items.
Ms. Bonar explained that the bidding process required persons to write their bid, name and telephone number on the relevant paper attached to their bid.
Mrs. Hinds appealed to the public to take part in the bidding and be a part of the efficient and effective work that the Council does to help people who suffer through disasters like fires and floods or find themselves in other difficult circumstances. She also called for volunteers to join the organisation, particularly males, noting that "we cannot help people, if we don't have people."