POLICE Assistant Commissioner, Brian Joseph last week encouraged young people of the Bush Lot Secondary School, on the West Coast of Berbice, to always remember those who have played a role in assisting them to achieve their goals in life, despite how little those goals may seem.
Addressing graduates, teachers, parents, education officials and other invitees who were present at the graduation ceremony for children who had completed their stint at the secondary school over the past five years, the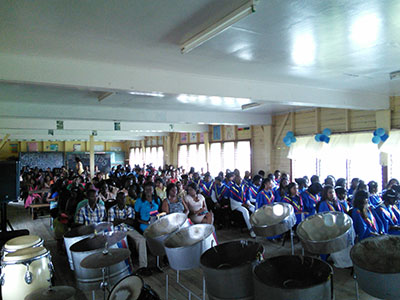 senior police official declared: "Your parents have made many sacrifices in the last few years, and (have) provided you with the enabling environment at home, (and with) financial and moral support to help you through to this stage.
"Next, let us pay respects to the teachers, without whom none of this would be at all possible," the commander remarked during his presentation to the gathering.
The senior police officer also commended the teachers for being able to mould the lives of the children, who have been drawn from various backgrounds, with different social and other issues. He said it is often something challenging for any educator to deal with.
He cautioned the graduands that their graduation from the classes should not be taken lightly, since it proves that they would have exhibited determination and discipline. Moreover, he advised that once they build on their strengths, the future for each of them would be secure.
The commander also told the young people to be mindful of the peer pressures — which would always come along, given the different environment that they would be exposed to — as they enter the world of work.
He further made a pitch for some of the graduands to join the disciplined forces. Moving onto adulthood would require emotional adjustment for both parents and children, he advised, but cautioned that this would also border on parents being anxious to see their children become independent while worrying about the unforeseen circumstances which comes with everyday life.
"Open yourself to speaking with your children on various issues that may confront them," the commander encouraged parents, as he pointed to the need to have a healthy parent/child relationship.
"Your children are entering a new phase in their lives, and your management styles may have to change. Equally, the graduating students must realise that when you leave home, your parents are faced with managing a major change in their lives. You must also change your style of parent management to avoid adding to what is a very stressful life they lead in this day and age," Commander Joseph admonished.