We have travelled near and far, high and low in our treks as we explore Guyana. And we have brought you week after week the exciting tales and amusing stories of our many outstanding villages.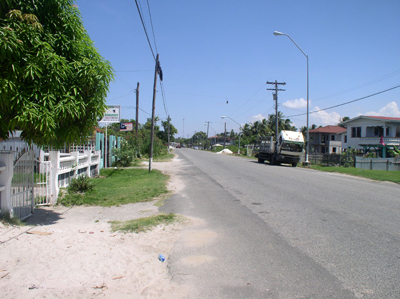 Now it was our turn to visit Airy Hall on the East Coast of Demerara but what we found there was very surprising.
You see folks with every other village we have visited, there were either high levels of harmony, great camaraderie and a seemingly mutual understanding amongst the residents. But at Airy Hall we were shocked to find that in several sections of the village residents were either attempting to throttle each other, or just were not speaking to each other for one reason or the other.
While Airy Hall is indeed a very attractive small village, there is certainly need for residents to come together as one and cease the segregation for the sake of the village's development.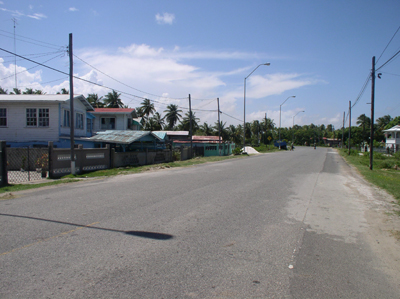 That aside, there were quite a few positives in the village which will unfold as the tale of Airy Hall continues.
Location
Airy Hall is an estate in Region 5 (Mahaica/Berbice). It is located at an elevation of 1 metre above sea level.
Its coordinates are 6°34'0″ N and 57°46'0″ E in DMS (Degrees Minutes Seconds) or 6.56667 and -57.7667 (in decimal degrees). Its UTM position is VH12 and its Joint Operation Graphics reference is NB21-06.
The sun rises in this village, most times at 08:43 hours and sets at 20:50 hours (America/Guyana UTC/GMT-4). The standard time zone for Airy Hall is UTC/GMT-4
Touching down
We rolled into Airy Hall just as noisy mothers were readying the little ones for school and it was quite amusing to watch the little banter as mothers yelled, and in some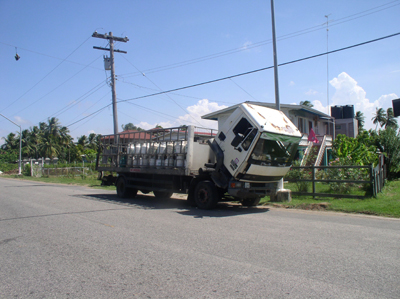 cases dealt a few lashes on kids that were either moving too slow, or failing to carry out little chores they are expected to complete before leaving for school.
In several places young men were seated by the street corner chatting about something or the other and their loud, raucous sudden outbursts of laughter caused one to look up in disapproving dismay.
Cattle and sheep grazed lazily in wide open pastures enjoying the royalties of being able to choose from several juicy grass and plant species. Except for the occasional bustle of young boys clambering over a catch of fish from the many small ponds, the village was otherwise quiet.
We were definitely fooled as we thought that this quiet still that loomed over the village meant things were bright and beautiful. We were in no way ready or prepared for the rivalry and contentions that was flaring so brightly amongst residents as we began our interviews.
Challenges
Well the village seems to be faring well save for at least three issues that are bothering villagers.
Seamstress and designer, Estaleen February and a large group of other women said that from time to time they are plagued with the plight of 'having no water' even though there is an artesian well in the neighbouring village of Dundee, according to the rambling ladies,
This situation fluctuates as sometimes they are able to get potable water while at other times they have to travel outside the village to obtain the precious, life-saving liquid.
They said that they were not at any time given an explanation by the relevant authorities as to why there was the periodical water shortages which forced them to travel three miles away to Central Mahaicony more than once to get their fill of water.
According to Ms. February this water problem has been an ongoing problem in the village.
Then there is the issue of garbage since there is no waste management entity operating in the village. Over the years villagers have been known to burn their garbage but lately a new problem has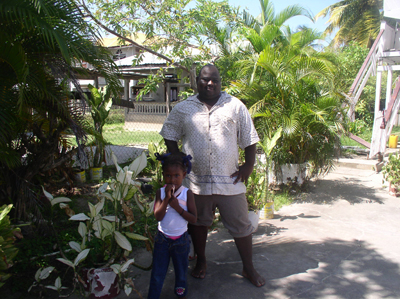 sprung up and is angering residents.
According to one resident Culburn Abel, outsiders are now sneaking into the village when residents are asleep and dumping mounds of refuse along the main irrigation canal dam.
This dam is close to the Atlantic Ocean so the strong wind blowing in from the seas, carries the pungent scent of rotting garbage into the homes and nostrils of residents.
Village Gossip
Of all the villages we have visited, it is Airy Hall that offered the most amusement and in some cases unpleasant surprise when we heard the tales coming from the lips of some inhabitants.
Now, every village has its little 'tiffs and disagreements' here and there and we have grown accustomed to that. But readers, Airy Hall seems to have topped our list for disagreements, segregation and animosity among those that live there.
Stopping to chat at many houses we were aghast at the comments made by individuals about their neighbours. In some cases, some persons even tried to prevent us from interviewing the other neighbour, mouthing unsavoury remarks like: "Don't talk to she. She too inquisitive." "Who dem people dah… dem evil don't talk to them."
At one point we were the target of a very 'steamy cuss out' from the Abel family as we attempted to take photos of garbage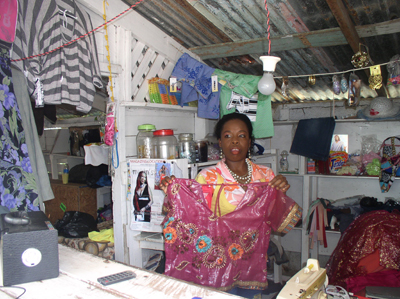 in an empty lot next to their home. Well we had no idea that one of the women that was taking us through the village 'had a beef' with the Abel's, so the moment I began flashing the camera a woman came out and launched a verbal attack all laced with obscenities.
Quickly we exited their domain but the woman in our company somehow got angry and turning back gave the Abels a good 'buse out' that certainly left them smouldering. In little time young boys gathered giggling and housewives gathered all ready to 'pick up fire rage' as they would say in the countryside.
As we tried to console the woman in our party she went into a surging tirade on the makings of Airy Hall.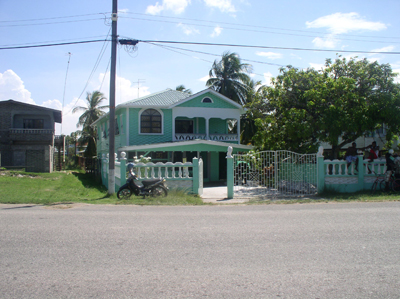 "This village is a small garden with bittah weeds. De people hea living like crabs in a barrel. Every time yuh try to do something positive, dem just sitting around and criticising. Dem ah talk name whole day, and some ah dem ready fuh cuss you out for no reason at all."
When the uproar simmered, housewife Malene Braithwaite related that there was an ongoing family feud between the Abels and another woman who lives across the street from them. It so happened that the daughter of that woman was in our company as we were taking the photos and this caused the outburst.
As rumours would have it, the woman across the road was living for several years with a male who fathered several of the Abel clan. He recently died and villagers said they are trying their best to get the woman and a few siblings out of the home and off of the land the deceased left behind. This topic was on the lips of every villager.
Livelihood
Now that we have survived those unpleasant moments, let's focus a little on the means of existence and survival of residents in Airy Hall.
Farming is done on an extensive scale in this village, and while kitchen gardens were present in several yards, there are farmers who cultivate cash crops on a much more extensive basis in the back lands.
And it appeared as if almost everyone was cashing in on the lucrative poultry farming. Wives were no longer just sitting at home and waiting for their spouses to bring in that pay cheque.
No way, instead they were up and running around cleaning chicken pens, mixing feed and smiling as they cut chicken necks and readied them for plucking. We were lucky to catch retired nurse, Jacqueline Anderson in action and marvelled at the pride and joy on her face. She must have been thinking about the incoming dividends her plucked chickens will bring after sale in and around the village.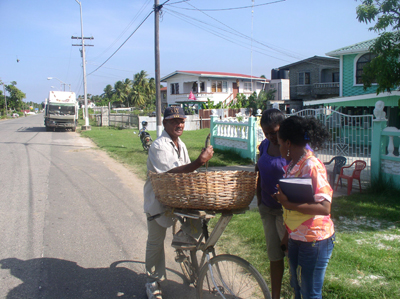 And Ms. Anderson was very warm and pleasant and talked a little about her new profession.
"Well I am retired now and I have served the society well during my years as a nurse. I am at home now and bored most times so not so long ago I decided to invest in some chickens.
I soon became deeply connected to my birds and watched them grow with pride. It pains my heart sometimes to cut their necks and remove feathers. But if I don't then they would certainly grow old on me, and besides… They do bring in an extra dollar."
And Ms. Anderson who is personally known to me is an excellent cook, and she did not hesitate to serve up a steaming plate of her popular red beans cook-up rice with deep fried trout. Her salad was divine and the fresh lime juice did wonders for the parched throat.
Some persons work as teachers in schools located in villages like Novar, Calcutta, Burma, Belladrum, Central Mahaicony and other locations. And just a sprinkling of
young men try their hands at pork-knocking in the interior regions. There are also a few seamstresses, tailors, carpenters and masons.
Those that are seen liming around the village are actually seasonal workers who become gainfully employed during the rice harvesting period.
Entertainment
There is little or no entertainment scope in this small village and so villagers have two choices on means of enjoying their leisure time.
They either sit down and 'tek ah tupps' at the Bairoop Liquor Store or they stroll down to the only entertainment hideout, the 'Snowflakes Bar' owned by a businessman referred to as 'Mr. Baker.'
This bar features some very attractive Amerindian waitresses and as such the young men flock the joint on weekends and even during the week. Others will travel to Belladrum where they can have a real party at the Co-co-co-Banna Nightclub.
Other than that the celebration of weddings, birthdays and other event adds a little fun and frolic in the lives of villagers.
Dangerous Turn
Another issue of concern among villagers was the very sharp turn in the Airy Hall Public Road which they are dubbing as very dangerous and risky.
Over the years many vehicular accidents have occurred at this location, many times involving speeding drivers on an unfamiliar route.
Villagers are calling for speed humps to be placed across the road in this location and road signs to be erected to warn drivers to decrease their pace and also of impeding danger.
In February last year the latest accident occurred at this turn in the road where a teenager was struck on the road parapet and hurled into a trench by a speeding army officer. The child was killed on the spot.
The community of Airy Hall, still remains in mourning over the death of 13-year old Troy Fraser, who was killed by a speeding car driven by an allegedly Guyana Defence Force Officer.
Villagers still sit in small groups discussing the manner in which the teenager's life was snuffed out and lamenting the wanton disregard for the law on the part of someone who they said should have known better.
Some villagers are saying that the army officer and three of his friends were engaged in a drag race when he lost control of his Toyota Carina and slammed into Fraser.
The mother of the deceased child, Yvette Fraser, still weeps with the memory of her son's sudden passing.
Airy Hall before time…
Many years gone by, Airy Hall was just a smattering of houses and overgrown sprawling pastures. There were only two grocery shops in the village, the more popular being the Muriel Da Silva's Grocery and Variety Shop.
At this outlet housewives and young girls flocked daily for kitchen supplies or to sample her tasty 'cool down' (chilled fruit juices in plastic bags) or to bite into delicious buns, cream cakes, fudges, cookies and coconut biscuits.
Young boys would gather in the afternoons there to play marbles. They created quite a noisy raucous but Aunt Muriel never minded since they were making steady purchases.
Today this joint has been turned into a clothing and accessories shop and is manned by resident Estaleen February. 'Aunty Muriel' has grown old now, but her jolly memories live on in the minds of all those she came into contact with.
The village cries out for recreational and entertainment opportunities.
Villagers are lamenting the fact that their playground is not in tip-top shape and are requesting that authorities build them a community centre.
Some female roadside vendors are of the opinion that the maintenance of the pleasant playfield should be a 'village effort.' One vendor opined that villagers should come together and get involved in 'self -help' projects to clean up the compound. She also felt that they should promote concerts and other entertainment ventures to raise funds to build their own community centre and keep it in 'tip-top' shape.
That aside, villagers are appealing to donors to provide sporting gears and other forms of assistance as they intend to reform their once thriving and popular Circle Tennis Club. Airy Hall in times gone by had produced one of the most vibrant circle tennis teams on the East Coast of Demerara, and was always successful at defending their titles.
Several conversations with youths in the village revealed that they are longing for someone to take up the mantle of spearheading cultural activities in the village. At present at least one public spirited individual is holding sessions to raise the bar on football in the village.
Infrastructure could do with some sprucing up
The Airy Hall dam that allows the 'Waterside Residents' traverse to and from the public road is not in the best of shape. Soil erosion and other factors have destroyed a few areas of the dam, which some years ago, was in excellent condition. While large trucks using this dam add to its continuous destruction, cattle farmers in the village are also responsible for its deterioration, since they use this dam as a daily route to get their animals to the pastures some distance away from the village.
There are still several side streets, especially in the Waterside Area that have not been paved and villagers do not take nicely to this, raving that all the streets in other nearby villages have been completed.
Educational Defects
Morals have dropped considerably and school dropouts seem to be on the increase in the village.
Speaking on the issue which greatly seemed to trouble him, villager, Culburn Abel expressed his heartfelt hope that the newly erected technical institute at Park Village, Mahaicony would help to resolve the issue.
This institution offers students opportunities to develop and foster their vocational and technical skills with the intent to make them better and more educated individuals.
Transportation
Several years ago, hire cars were indeed the main form of transportation in Airy Hall. Villagers were more prone and seemed more comfortable with the environs of a hire car, than the minibuses which also ply the roads continuously.
Today those cars have disappeared and villagers have to now depend on the very mini buses they avoided and sometimes the wait can be very lengthy, since most of these buses now ply the Georgetown to Berbice route.
Some villagers would normally use bicycles for short distances and even a few motor cycles are still around. And guess what? Some of the youths are really getting smart and are moving around on roller shoes which they claim is a more exciting form of transport.
The start of the day at Airy Hall
The village begins to awaken sometime around 04:30 hours to the sound of fishermen chattering noisily as they ride their rusty bicycles to the various canals and trenches for their predicted daily catch of 'bush fish.'
These fishermen, however, are from neighbouring villages of Recess, Good Faith, Dundee, Novar and even Huntley, all predominantly inhabited by people of East Indian ancestry.
The clink of metal milk cans clanging against the metal of bicycles can also be heard as cattle farmers undertake their early morning journey to the savannah and back lands to extract milk from the animals for sale to many nearby villages.
As the first streak of sunlight breaks from amongst billowing clouds the village comes to life with the happy chatter of residents and bustling activity as everyone tries to get errands done
Their Folklore
On Emancipation Day every year, villagers would don African wear and would sing, dance and engage in great festivity in the streets.
Some elderly folks in the village reflected on nights of story-telling around campfires, picnics in the woods or savannahs, and of course the traditional yearly Soiree event at which great masses congregate for a night of sizzling activity where they 'connect with their roots.'
There are quite a few single-parent mothers in the village, but what was notable is that these mothers are not waiting around for the irresponsible fathers to 'come up with the cash' but instead have found jobs.
Today several stately buildings have sprung up in the village and a few more grocery and household supplies entities. The village now is far more attractive and much more comfortable to live in.
With a little cleaning up and proper infrastructure maintenance, Airy Hall can soon evolve as one of the villages in Guyana that have moved from primitive to high class modernisation and unique development.
(By Alex Wayne)