THE No. 56 rice seed facility in Region 6, which is almost completed, will be commissioned within three weeks, according to Project Manager, Dr. Elizabeth Ramlall.
C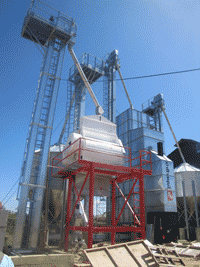 iting the need for works to be completed in a timely manner, Minister in the Ministry, Juan Edghill, during a recent visit to the facility, chided the contractor for his slow pace of work.
The $174.4M facility, which is funded by the Inter-American Development Bank (IDB), will see the mills undergoing a testing phase, following which operations will commence.
Shortly, the services of the Guyana Power and Light (GPL), and the Guyana Water Incorporated (GWI), will be installed. These services were not catered for in the initial contract.
Leslie Ann Edwards, Operations Specialist, IDB, voiced concern over the delay in the project, whose loan lifespan comes to an end on December 24, 2012.
The state-of-the-art facility has a capacity to produce 20,000 bags of seed paddy annually, and will house a number of mechanical and electrical equipment, a scale house, and a laboratory facility for rice grading.
A device is also expected to be fitted to prevent the facility being a noise nuisance.