TO ensure that farmers' livelihoods are safeguarded, especially during rainy seasons, a two-door sluice is currently under construction at East Black Bush Polder, Region 6.
The $417M project, which is being constructed by Rupan Ramotar Investment, also encompasses a canal and two pump stations to effectively drain the popular cattle rearing and rice growing area.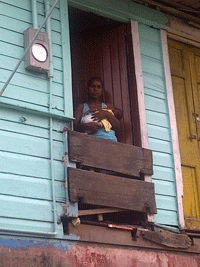 Minister in the Ministry of Finance, Juan Edghill, was in Region 6 recently and checked on the status of that and several other projects. He was accompanied by representatives of the Ministry of Agriculture's National Drainage and Irrigation Authority (NDIA).
Minister Edghill requested a weekly report from the contractor, with accompanying pictures to keep abreast of the project's progress. He issued a stern warning for the works to be accelerated, so that the May 2013 completion deadline can be met.
"This project is a very important aspect in our work programme, which will reduce some of the hardship farmers face, during the rainy seasons… the weather is in your favour, and there should be no excuse for delays," he added.
The contractor, who was also present, maintained that the project will be completed as scheduled, once the weather remains favourable.
In an interview with the Government Information Agency (GINA), the contractor stated that the project, when completed, is expected to adequately drain the Black Bush Polder area.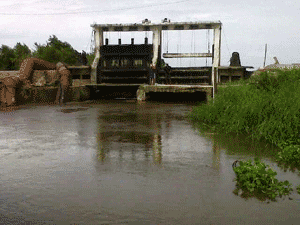 "We understand the importance of such a project, hence the reason we are working day after day without rest…our aim is to have this project completed on schedule and without any defects," he said.
Lalbahadoor Singh, Chairman of the Black Bush Polder Water Users' Association, lauded the government for the project, which he said will significantly assist rice farmers, especially during cultivating.
He added that while there were some slight delays in executing the project, works are now progressing satisfactorily, and is now 50 percent complete.
"This project is very important to the Black Bush Polder area, especially for rice and cash crop farmers. This will eliminate all the flooding and the difficulty farmers are currently facing, and I want to say a special thanks to the government for this project," Singh said.
There are currently 17,500 acres of rice lands under cultivation in the area, as works continue apace to meet the annual production target and supply the country's market demands.
In the past, rice farmers suffered losses, hence the huge investment in drainage and irrigation in the region.
"This is a really good project and the people of Black Bush Polder, as well as those in the front lands are satisfied and we commend the Guyana Government that played a very important part in getting this project going," Singh said.