A FAMILY of four is now homeless after the shack in which they lived was completely destroyed by fire yesterday morning, at Lot 94 Field Three, 'A' Field Sophia, Greater Georgetown.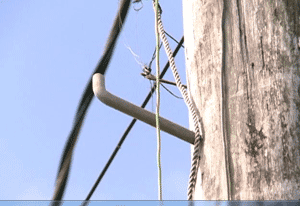 Owner of the property , Jagdeo  Sarjoo said he believes the flames were deliberately set, because, according to him, no one was at home when the flames  started.
He also said the family had not used their stove anytime prior to the discovery of the blaze.
Jagdeo told the Guyana Chronicle he and his son-in- law are always quarrelling and Sunday evening and yesterday morning they had another such encounter.
The man explained that the latest confrontation between he and his son-in–law ended up in an argument after he, Jagdeo, raised his concerns about the other man sending his granddaughter into the yard of a friend where dogs are present.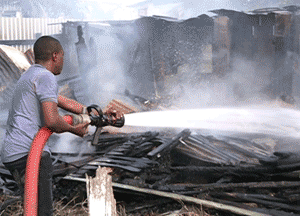 Jagdeo said that the child is five years old and, as such, will not be able to defend herself should she be attacked by the canines.

ALERTED HIM
The obviously upset man said he was a few blocks from his home when one of his friends alerted him to the flames and thick smoke which was issuing from between the branches of a coconut tree.
Jagdeo said yesterday morning his son-in-law seemed to be in one of his moods and the argument from the night before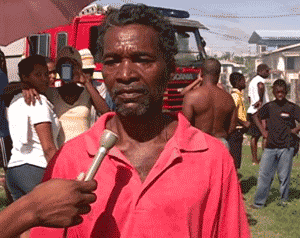 might have had the man still feeling upset.
He said he observed his son-in- law dressed in an ancient Egyptian wear and acting strangely and, during their argument yesterday morning, the latter  warned him and his daughter that, should they ever report him to the police for the way he behaves, he would treat them the way the police usually treats people.
Asked to explain what the son-in-law meant, Jagdeo said he, himself, asked the same question but the latter never uttered another word.
When the Guyana Chronicle visited the location yesterday morning, firefighters had already extinguished the blaze but were still dousing the wood and zinc.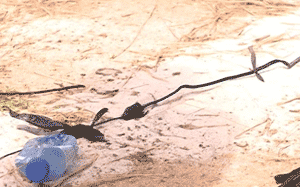 Jagdeo said he had been living there for almost two decades but an illegal electricity connection was seen running from a Guyana Power & Light (GPL) pole to the destroyed shack.
In addition to that, there was another shack located on the same property which also had an illegal connection to the utility.