NO arrests had been made up to press time yesterday as Police continued their hunt for suspects in the execution of 40-year-old Ricardo Rodrigues, called 'Fat Man', at the Guyana Motor Racing and Sports Club (GMR&SC) in Thomas Lands, Georgetown, on Monday afternoon.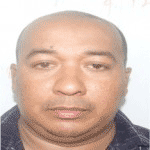 Three other men were wounded in the attack and a senior law enforcement official confirmed that several persons were questioned following the fatal shooting but no significant breakthrough has been made in the investigations.
Meanwhile, two of the three men who survived with gunshot injuries during the murder of Rodrigues by the marauding gang at the GMR&SC Restaurant and Bar, remain warded at Georgetown Public Hospital (GPH), while the third has been transferred to a private hospital.
They are all reported to be in stable condition but being closely monitored by doctors.
The injured men are Michael Hutchinson, 42, a coach who works at the GMR&SC gymnasium and was shot on one arm and foot; Aubrey Henry, 35, who was wounded on both thighs and Jean Pierre Le Blanc, said to be a Canadian, who suffered injuries on his right arm and left side buttocks.
The outbreak of gunfire happened shortly after 16:00 hrs when gunmen walked into the GMR&SC premises in the Albert Street section of Thomas Lands and discharged a volley of bullets, several hitting Rodrigues.
Pandemonium broke out and the three other men present were also injured.

BLACK CLOTHES
Police recovered several spent shells at the scene after the killers, all clad in black clothes, escaped in a waiting motor vehicle.
Sources said that, next to the dead Rodrigues lying on the floor, was a revolver, but even though he might have been armed, he never got the chance to retaliate when confronted by his killers.
Rodrigues also called 'Fat Man' and alleged to be at the centre of the recent arms bust at Lethem, Rupununi, was wanted by police for questioning but soon after the posting of a 'wanted bulletin' for him, he turned himself in to the law enforcement authorities.
His lawyer, Mr. Glen Hanoman made representation on his behalf and he was placed on $100,000 bail, pending a Court appearance on December 4.