IT is the simplicity of life in the West Coast Demerara village of Meten-Meer-Zorg that contributes much to the hilarity in Mohan Singh's videos. Each video he uploads to his Facebook Page, "Laugh till yuh kaka rup rup" continues to receive thousands of views, although his original page with over 84,000 followers was hacked.
With just 24,000 followers on the second page he created, Mohan continues to make thousands laugh with stories he draws from every-day life with his mom, friends, and popcorn business.
"Hailing from the village of Meten-Meer-Zorg has definitely birthed within me simplicity and humour into everyday life. With so much worry in the world, a little smile brings closure to much sadness," Mohan told the Buzz in an interview this week.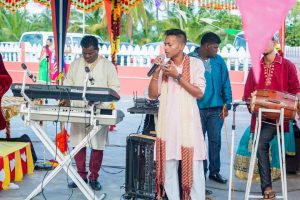 The 24-year-old, being the proprietor of a popcorn business, did not get to complete his education as he sought to support his mom and siblings. With no certificates in hand, he nevertheless believes that his working experiences have drowned him with all the knowledge he needs.
"Growing up with my mother who is everything to me has shaped me into a determined soul. It was during this time that I aspired for nothing but pure happiness. I aspire to be one of Guyana's well-recognized comedians and continue being a businessman and making a difference in everyone's life," Mohan expressed.
"If you're to meet me, I won't offer you anything but a laugh or two. I compose content based on everyday life with a touch of humour and salt to taste. It's the perfect recipe, especially in these grieving days," he added.
However, Mohan was deeply affected when his page was hacked and someone started posting on behalf on him. "This was my only tool with which I can touch the world with cheer and joy. This was the page I birthed and breaded humour into; the page that made me realise that I was more than a comedian, as I posted my performances of singing and dancing. 'Nah worry about dah man,' I said to myself. It was a time of rebirth and using the determination I've gained as a child, I've whipped up a new page."
Also a welder and machinist, Mohan has a passion for singing and acting. Being part of the Dynamic Tassa Troupe extended to him another way of making people happy. "Let's not forget 'Service to humanity is service to God.' That's the motto of Nirvana's Humanitarian Center where I've been part of for five years. It's a thrilling experience to use your talent to help other people give back without expecting anything in return."
Mohan's advice to his fans is: "If you're ever in the village of Meten-Meer-Zorg, you have to stop at 'Mohan's Corner' and try my 'finger linkin' popcorn. Always be happy; always be kind to one another and always remain positive despite your downfalls. They're just the fuel to your success."