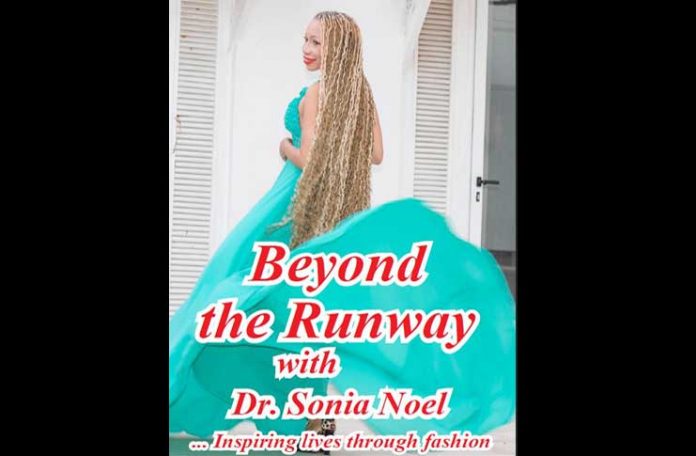 FOR the last month, I have been paying close attention to the content of messages people were sending me or saying to me in person. A feeling of optimism filled my mind because of the interest persons are demonstrating regarding personal and professional matters. They constantly refer to my social media content, my books or content from this column. When I took two weeks off from writing this column because of my brother's death, persons sent messages asking where is their Sunday inspiration, lol. That ignited my passion, knowing that people missed BEYOND THE RUNWAY because it added some value to their lives.
I must mention that the readership goes beyond Guyana and that is encouraging. I was introduced to someone visiting Guyana and he said: "I know that name" and started to search his memory which came up with my column. When Ambassador Michael Ten-Pow, Permanent Representative of Guyana to the United Nations met me, he also mentioned the column while commending me on my positive contribution to society. I am striving to be a better person and leader every day. I am far from where I know this journey is taking me, but I am making progress because I am intentional about my growth. I am re-reading the 21 Irrefutable Laws of Leadership (by John C Maxwell) because these kinds of books you have to read a few times to have the desired impact. I am digesting the Laws again and the Law of the Lid is still one of my favourites.
The number one leadership Guru John Maxwell often opens his leadership conferences by explaining the Law of the Lid, because it helps people to understand the value of leadership. "If you can get a handle on this law, you will see the incredible impact of leadership in every aspect of life. So here it is: leadership ability is the lid that determines a person's level of effectiveness. The lower an individual's ability to lead, the lower the lid on his potential. The higher the individual's ability to lead, the higher the lid on his potential. To give you an example: if your leadership rates an eight, then your effectiveness can never be greater than a seven. If your leadership is only a four, then your effectiveness will be no higher than a three. Your leadership ability—for better or for worse—always determines your effectiveness and the potential impact of your organisation" he says.
They say the greatest investment is in yourself and I can attest to that, because over the years I have invested and still am investing in myself so I can be more effective adding value to others. We are registering for the new confidence becomes you class and introducing Developing The Best you 2 and Living With Intention. One of the other things I learnt from my mentor John Maxwell is to never say an event or programme is great until you have learnt the effect it had on people. I can safely say that these programmes have been effective because I witnessed the transformation from people from varying backgrounds. Please allow me to share a few testimonials with you.
"Before attending the confidence becomes you programme, I would say I did not have any idea about knowing your purpose in life and living intentionally to fulfil that purpose. Attending the programme has helped me to have a mindset that is constantly working on being the best me that I can; understanding my weaknesses and my strengths. I believe that attending that programme has helped me to do a 180ndegree turn in the path I want to take in life, and up to this day I am still having that urge to do more and to continue growing and spreading my wings." Latoya Barton
"The Confidence becomes You has taught me so many things about me. I have learnt to be more interactive with people …whether it be customers, clients or just friends. I have also learnt to be brave in taking that step into things I want to do …either to build my business or just build me as a person. Thank you, Sonia, for helping in building my confidence. Every day I try to be a better me. " Vanda Allicock, Entrepreneur
"The courses built my confidence and helped me reignite flames that had been long buried by circumstance. In a nutshell, it aids in discovering who we are truly meant to be."
Maryam Haniff, Entrepreneur
"The Confidence becomes You and Developing the Best You programmes are probably the most love I have ever given to myself by attending just two sessions. My entire outlook on life has changed completely over a period of just 10 months. Although, this may seem like a long or even short time for some, I'm just really humbled and grateful for the experience. These classes, coupled with Dr Noel's books are the basic tools on finding and winning with who you really are and who you need for you and by extension, who the world needs." Candacee Lowe, Assistant Manager.
I am blessed to be given the opportunity to do something I love and I must thank everyone who supported me. If you feel the urge to join us for the programmes,  give us a call on 6848129/6644851 or livingwithintention11@gmail.com as we continue to celebrate this beautiful journey called life BEYOND THE RUNWAY.